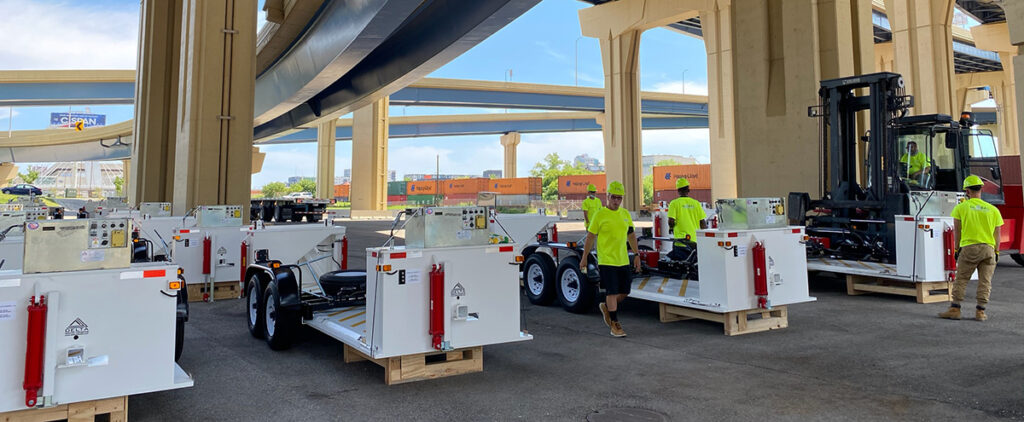 MP5000 Portable Event Barricade
ASTM M30 and M40 Crash Rated Portable Barriers Special Event Barrier
Certified by: U.S. Department of State
Certification Level: Certification Level: 12 FOOT VERSION TESTED TO K4 – WHICH IS NOW M30/P3
Gross Vehicle Weight: 15,000 pounds/66.7 kN
Crash Speed: 30 mph/48kph
16 FOOT VERSION TESTED TO ASTM M30/P3 and ASTM M40/P3 (K4,K8)
20 FOOT VERSION TESTED TO ASTM M40/P3
Available in 12, 16 AND 20 foot clear openings
Delta Scientific announces the successful full scale crash test and product release of the 20 Foot MP5000 portable K-4 crash-rated vehicle barricade system. The MP5000 is designed as a towable, rapid deployment vehicle barricade. The 20 foot clear opening version was developed for locations that have large vehicle traffic. With the successful test result, the 20 foot MP5000 has been cleared for production.
The full scale crash test was conducted by an independent test lab following the ASTM test criteria for an M40 level test. That is a 15,000 pound flatbed truck impacting at 40 miles per hour.
Greg Hamm, Vice President of Sales and Marketing said, "The successful crash test of the 20' Delta Scientific MP5000 will have a significant impact on the portable barrier market. Delta has worked extensively with our military institutions to develop a rapid deploying portable barrier that allows all variations of vehicles to pass through check points without incident. Quick deployment, simplicity of use, and a large clear opening with an ASTM crash rating were all key factors in this development. Delta Scientific continues to be the industry leader in product development matching our client's needs with the appropriate level of protection."
MP5000 Portable Barrier in Transit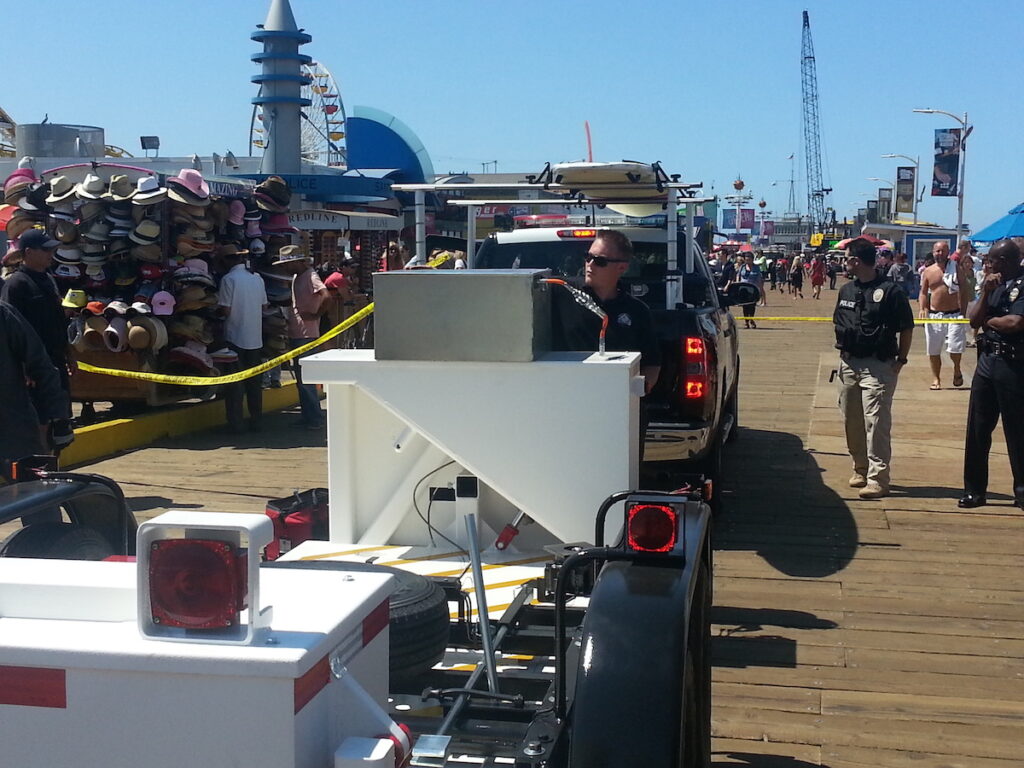 MP5000 Portable Barrier at Rutgers University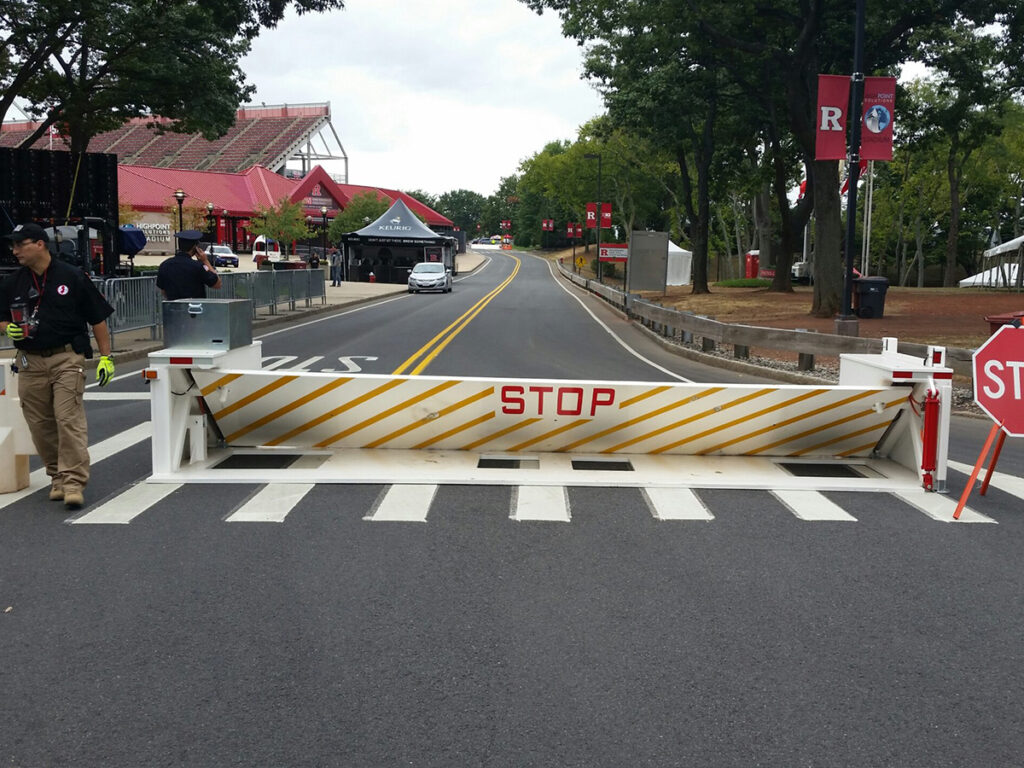 The 20' MP5000 came to fruition because US Army REF (Rapid Equipping Force) had a requirement for a portable 20' barrier at checkpoints in Afghanistan. They wanted a unit with a clear opening larger than the 16' version due to the size of vehicles in theatre. REF is housed at Fort Belvoir in Virginia. The mission of the REF is to equip operational commanders with commercial off the shelf and government off the shelf solutions to increase effectiveness and reduce
risk. Additionally, the mission is to insert future force technologies and surrogates to validate concepts and speed capabilities for soldiers. The REF serves as a solutions catalyst, canvassing the military, industry, academia, and the science community for existing and emerging technologies.
The MP5000 is one of Delta's most popular vehicle barricades. It is now available in 12, 16 and 20 foot clear openings. It is popular because it can be towed to where vehicle security is needed and sets up in less than fifteen minutes. It is self contained and battery powered. It can be seen at G20 meetings to protect life and property on city streets and at forward operating bases in Afghanistan. Over 1000 units have been sold.
MP5000 Portable Barrier at Levi Stadium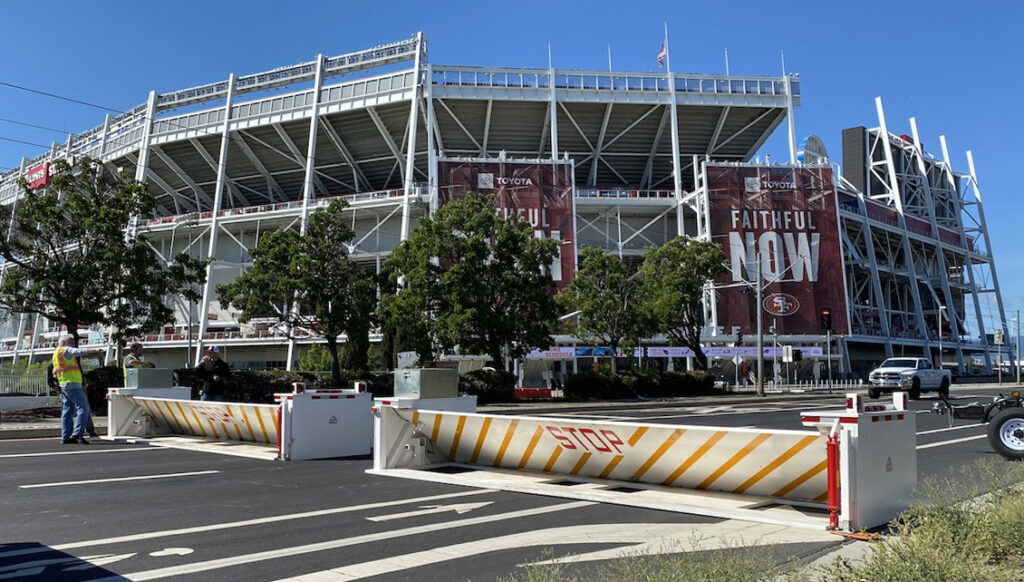 Anti-Terrorism Steel Barricades Installed At Fremont Street Festival
MP5000 Portable Barrier Mobilized at Night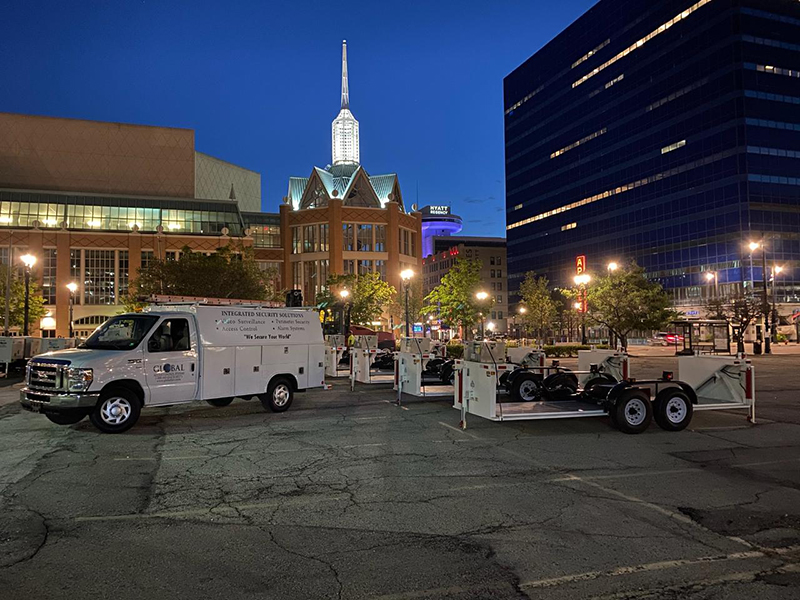 MP5000 Portable Barrier Ready to Protect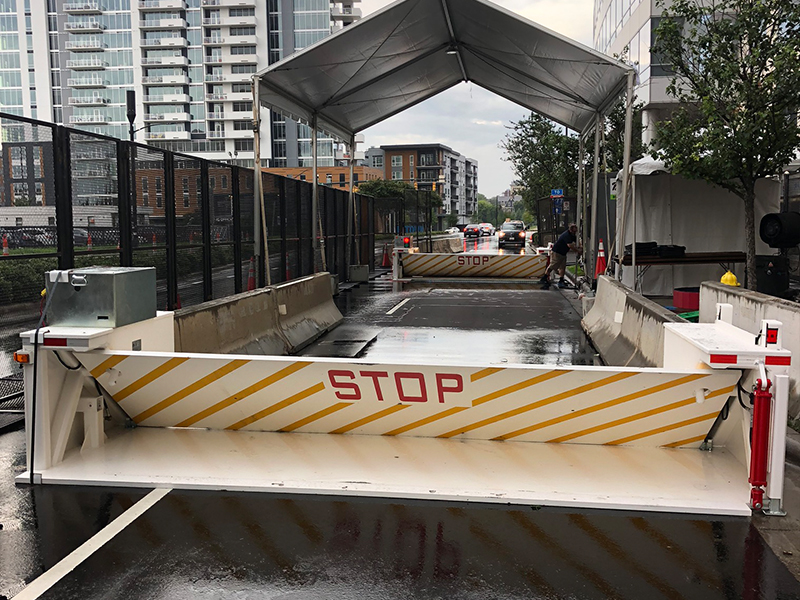 MP5000 Portable Barrier Crash Test
MP5000 Portable Barrier on Trailer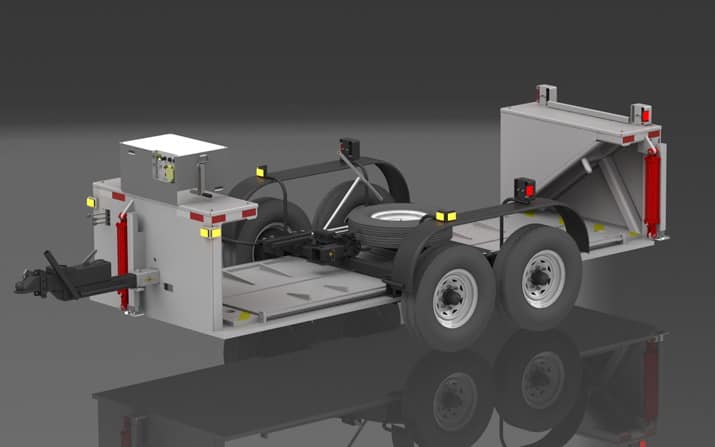 MP5000 Road Closure Gold Coast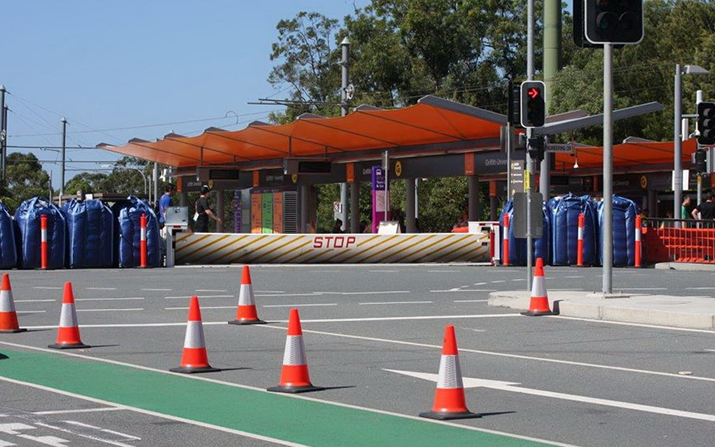 MP5000 16′ Portable Barrier Crash Test
MP5000 Portable Barrier Drawing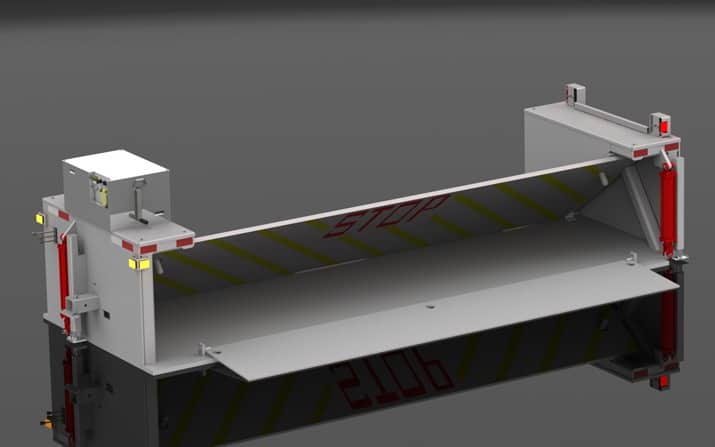 MP5000 Portable Barrier Crash Result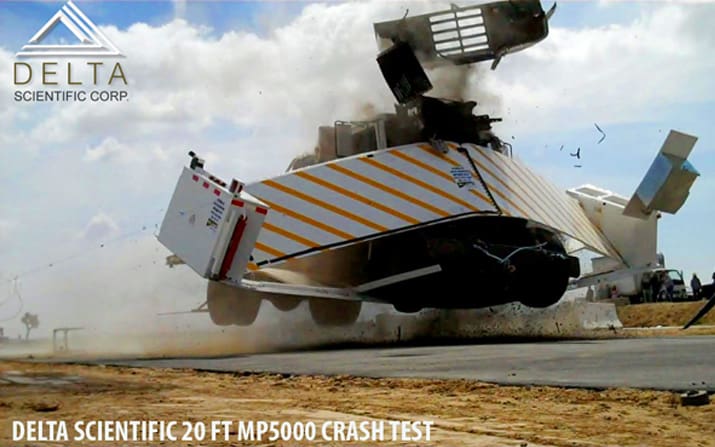 MP5000 Rapid Deployment Barrier Crash Test
MP5000 Portable Barrier Design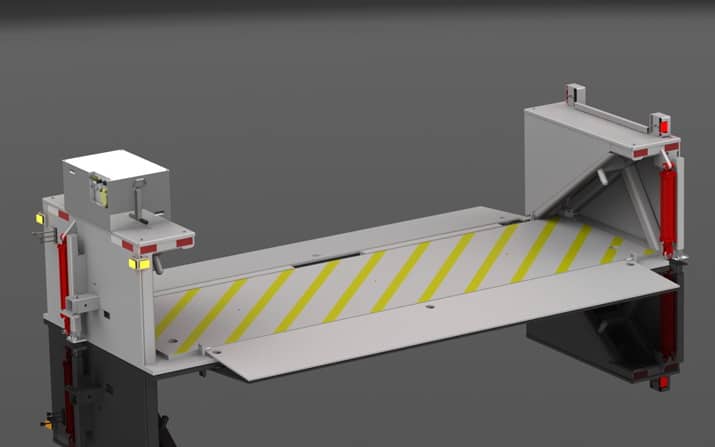 MP5000 Road Closure Gold Coast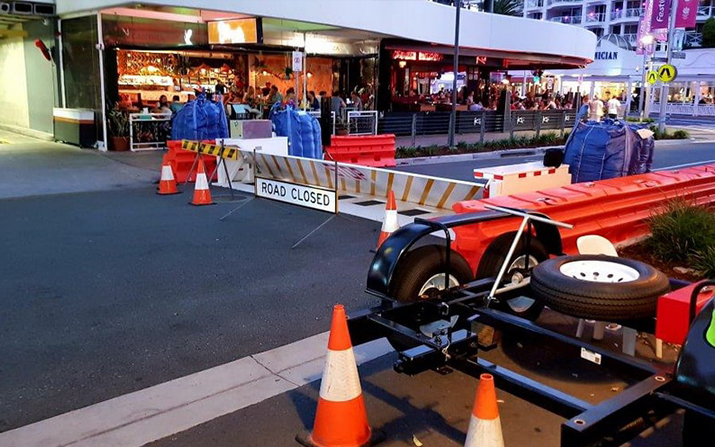 Specifications & Resources
P5000 20′ General Arrangement Layout
MP5000 12′ General Arrangement Layout
MP5000 20′ Trailer Towing General Arrangement Layout
MP5000 General Arrangement Drawing
MP5000 16′ General Arrangement Layout
MP5000 Portable Barrier Printable Information
Other Portable Barriers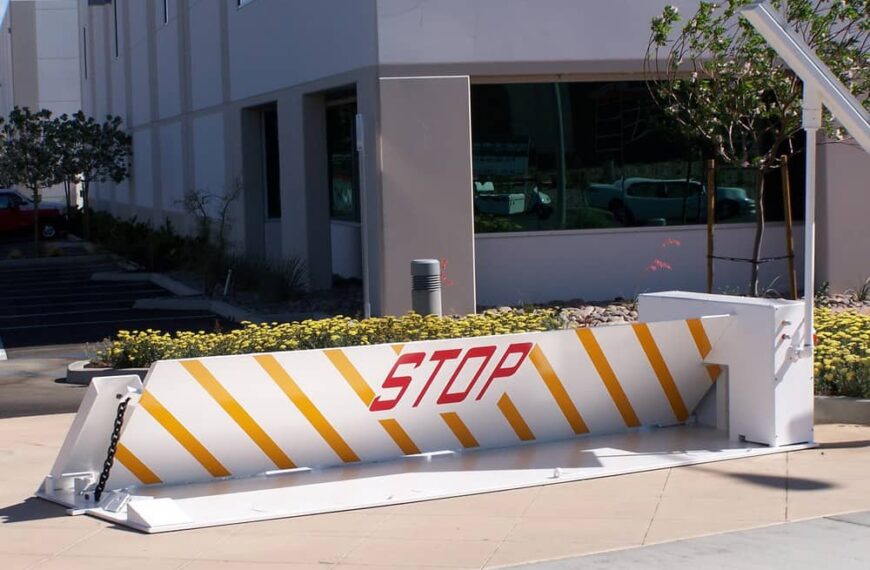 The DSC1000 is a self-contained unit that is stored and towed on its own trailer. Municipalities, event organizers and others that stage temporary events, ranging from farmers' markets to concerts and sporting events, need a commercial barrier that can be towed into place to protect attendees as well as an errant driver.