DSC1000 Portable Barriers
Special Event Barricades
Tested to: ASTM
Test Level: P40
Gross Vehicle Weight: 5,000 pounds/2300 kg
Crash Speed: 40 mph/60kph
The first in a new category of commercial, crash-tested vehicle barriers, the DSC1000 is a self-contained unit that is stored and towed on its own trailer. Municipalities, event organizers and others that stage temporary events, ranging from farmers' markets to concerts and sporting events, need a commercial barrier that can be towed into place to protect attendees as well as an errant driver. Using Delta's Soft Stop technology, the DSC1000 stops such drivers from inflicting harm upon pedestrians and themselves.
In many cases, the tragedies that the DSC1000 will prevent are accidents. Authorities want the vehicle stopped but they also want to avoid injury to the driver as much as possible. Contrary to the "hard stop" wanted with anti-terrorist crash-tested barricades, testing of the new DSC1000 demonstrated that a collision does not distort the passenger compartment of the vehicle. Instead, Soft Stop technology decelerates and stops the vehicle over a short distance, technically referred to as "occupant ride down acceleration."
DSC1000 Portable Barrier Trailer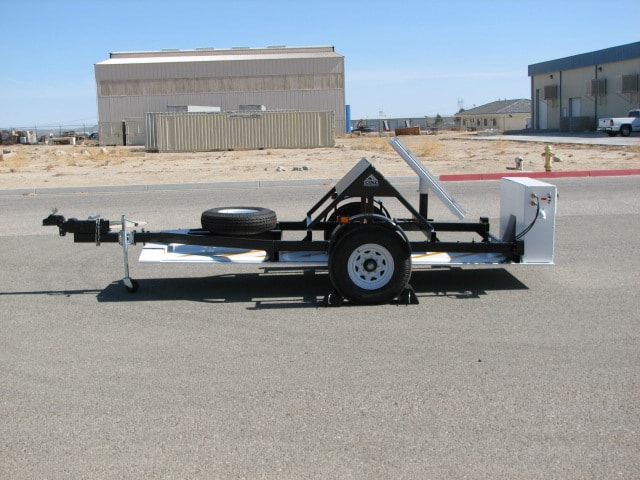 DSC1000 Portable Barrier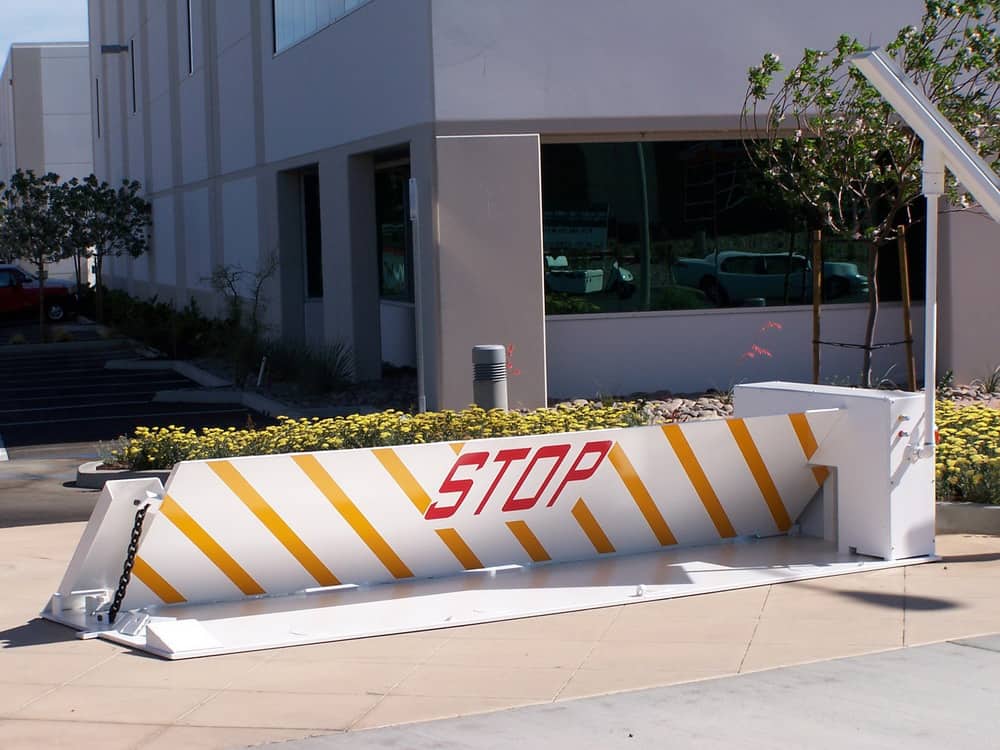 Light enough to be towed by a golf cart and set up in only 10 minutes, the new DSC1000 portable barrier has already passed an ASTM crash test in which it stopped a 5,000-pound (2300 kg) vehicle going 40 mph ( 64kph), providing it with an ASTM rating of P40.
With no foundation or electrical hook-up needed, two people can set up and take down the new DSC1000 special event barrier in minutes. The crash rated barricade's self-contained power system provides all the power necessary to raise and lower the unit onto its trailer and open and close the barrier. This battery-powered system re-charges with a solar panel or external means. Controls can be locked or operated at the barricade or remotely.
Specifications & Resources
DSC1000 General Arrangement Layout
DSC1000 Printable Information
Other Portable Barriers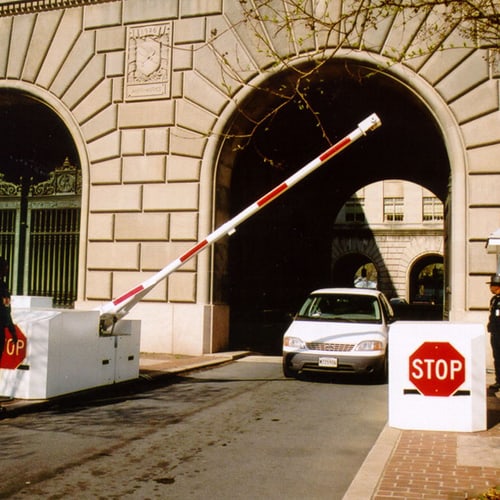 Able to be deployed or relocated for full manual or automatic operation within two hours, Delta Scientific's quick deployment Series IP500 K-4 Crash Rated Barricade will stop and destroy a 15,000 pound (6,800 kg) truck traveling at 30 mph (48 km/h) in less than 20 feet (6 m). It secures an entrance roadway 8 to15 feet in width from vehicle attack.