High Security Vehicle Control Barriers for Ports and Harbors
That's why leading ports all around the world, including the Port of Sydney Harbour, Pearl Harbor and others, employ Delta barricades, bollards and crash gates to protect passengers, employees, cargo and infrastructure facilities. Vehicles not authorized just can't get through. Period. The increase of globalization and the heightened exchange of goods utilizing container vessels has brought increased threats to ports and harbors around the world. The threat of terrorist attack on naval bases, harbors, ports, terminals, underwater pipelines, shipping and coastal facilities remains a real and growing concern to all countries. Delta Scientific can provide an array of facility barricade and access control systems to mitigate intrusions.
The Port of Sydney Harbour installed Delta's K54 DCS501 anti-terrorist barriers to protect their international cruise ship terminal. The barriers prevent speeding vehicles from getting past the guard post at the Overseas Passenger Terminal at Circular Quay, where about 90 vessels dock during the busy summer months. Nearly 160,000 passengers come through the Port, representing a major facet of Australia's tourism industry.
Delta's automated, linear gates protect vulnerable piers at Naval Station Pearl Harbor in Hawaii. The automated gates at the Navy piers create a protective barrier between terrorists and in-port assets. According to Andrew Luvale, Anti-terrorism Director, Navy Region Hawaii, "Product support is vital because these piers are the lifelines to the ships." "Delta always resolves issues in a timely manner. We know that if we call their product support director any time of the day or night, we're going to get the help we need. That's a proven track record that is rarely found nowadays."
When integrated properly, barriers, including fences, lights, alarms, gates, and other security components are a key measure in preventing threats to sensitive resources.
Protecting your perimeters is no small responsibility. Knowing you've got the right equipment in place to secure the facility and to prevent human tragedy brings a peace of mind that no amount of money can buy. Carefully researching available options and consulting with experts will ultimately lead to the right solution.
Below is an image of what an unauthorized truck would look like if it tried to enter your port facility when protected by a Delta barricade.
Products for Ports & Harbor Security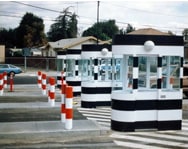 There are areas where the typical square guard booth design will not work. With full round or half round guard booth buildings, you can conform to the island design, giving a full view with no corner post interruptions. These rounded buildings come with swing or sliding doors. Pre-wired to N.E.C. (125 AMP, 120/240 Volt, 6/12 station, single phase), Delta guard booths are fully assembled and ready for service.