Sliding High Security Crash Rated Gates
Principle Features
Certified by: Meet U.S. Department of State standards
Certification Level: Passed K12 test
Gross Vehicle Weight: 15,000 pounds/66.7 kN
Crash Speed: 50 mph/80 kph
Model #: DSC288
Flat Panel Design
The front buttresses on a typical security gate increase the foundation size, affect the appearance of the gate and limit the thickness of the front face materials. For the first time a high security crash rated gate can now fully match the perimeter fence in materials ranging from wood; steel; mesh; glass; fence pickets or railings. Anti-climb, clear or opaque ballistic in fill are all available. This high security gate is guided from the rear side leaving out the front buttresses. This provides the architect and security engineer flexibility on the face treatment or in fill of the gate. The security gate can be supplied as an open frame for field fitting or supplied completely assembled. The crash beam behind the gate stops the vehicle not the face.
DSC288 Sliding High Security Gate Crash Test
Full Scale Crash Tested to DOS/ASTM standards. The crash beam and buttresses have now been full scale tested on five occasions to US and UK standards. ASTM M50 Zero Penetration (DOS K12).
Anti-Crowd Control: Positive Latch Pin Latch that secures the gate in the fully closed position and protects against mobs forcing the gate open.
Touch Screen Control Panels, plug and play installation, network capable, data logging and programmable maintenance and functions. Programmable Logic Controller (PLC) with Inteli Gate control features.
Built in Safety Edge, IR Safety Beam, Inductive Safety Loops
Shallow Foundation Design
One Day Installation.
Balanced Design with next generation sealed bearings for extended life and serviceability.
Power Options: Fully Manual Operation. Ideal for infrequent use locations.
Electromechanical: Rack and Pinion Drive sized to power the gate
Hydraulic: High power and high speed applications or for shared use of the hydraulic pump operating high security barricade systems.
Three Ground Track Options:
Cast in Place Vee, Standard
Bolt Down Vee
Below Surface Mount Vee
Cantilever Model DSC 290 No track required
Clear Openings Range from 120 to 360 inches (10 Ft to 30 Feet, 3 M to 9.1 M)
Custom Heights and Widths available
Specifications & Resources
Delta Crash Rated Gates Brochure
Other Sliding Gates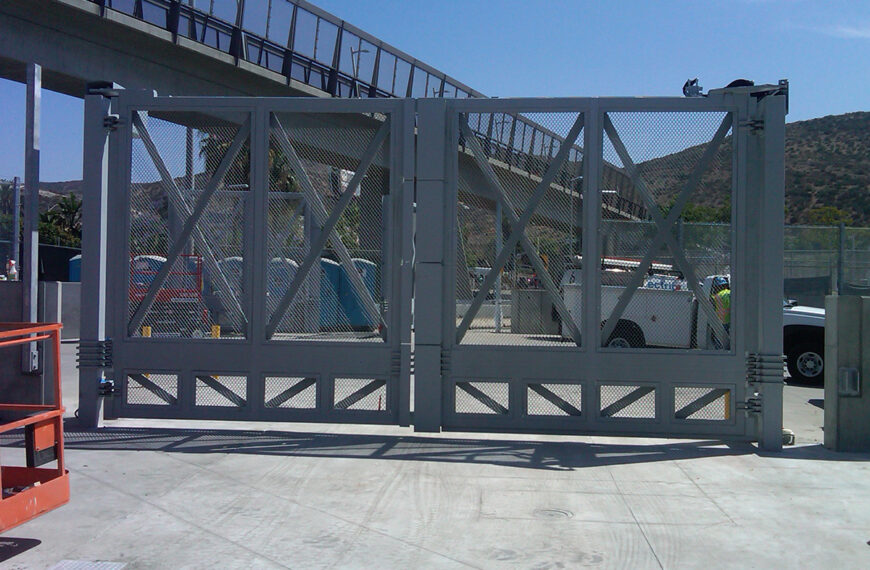 Delta Scientific's SGC1000 high security swing gate was designed to fill the need for a rugged manually operated crash-rated swing gate. The design of the end support assemblies add to its crash rated performance. A ground track is not needed. The SGC1000 provides a clear opening of 12 to 30 feet (3,657 mm to 9,144 mm).