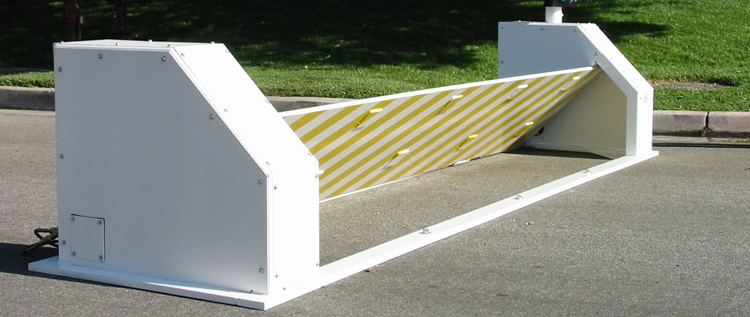 DSC900 High Security Portable Barriers
K-4 Crash Rated Special Event Barricades
Certified by: Delta analysis
Certification Level: K4/L2
Gross Vehicle Weight: 15,000 pounds/66.7 kN
Crash Speed: 30 mph/48kph
The DSC900 high security portable barricade provides security against vehicle-based terrorism or thefts for high-cycle locations such as the entrances to large office facilities, government agencies and military bases. Able to be deployed in high traffic locations for full manual or automatic operation within two hours, Delta Scientific's quick deployment modular Series DSC900 Portable Barricade features a phalanx-type rising plate barrier mounted within multiple inertial pods.
The plate barrier lies level to the ground to allow vehicles to pass and is raised or lowered into position, utilizing a hydraulic cylinder driven by Delta hydraulic Power unit or utilizing manual operation. The weight of the Plate Barrier is balanced by a Hydraulic-pneumatic balance system (U.S. Patent # 5,560,733 dated 10/1/96). The Hydraulic Pumping Unit can be sized to provide pass-through rates suitable for most inspection and identification station requirements.
DSC900 Portable Barrier Installed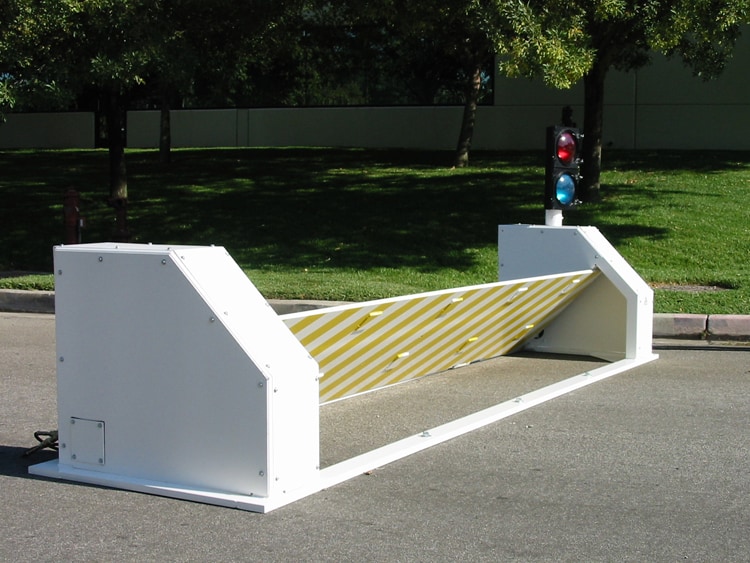 DSC900 Portable Barrier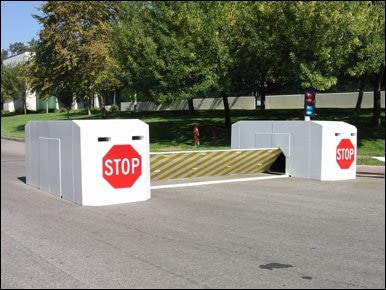 The unfilled pods weigh less than 700 pounds (318 kg) and consist of a permanent steel housing back-filled with concrete either in site or remotely. Each Pod has fork-lift slots for moving and positioning. Pods can be moved using a small forklift, pallet jack, crane or handcart. They can be set on paved roads and driveways, undisturbed soil or any combination. No excavation or foundation is required.
The portable system can be operated using any Delta hydraulic, pneumatic or manual system including fully automatic access or remote control by hardwire or RF links.
Operating modes include, full automatic, remote-hard line, remote-radio, card reader, key switch, Battery Powered H4050 Pump or by local guard pushbutton station, and by other means – or by combinations thereof. Patents pending.
Specifications & Resources
DSC900 Printable Information
Other Portable Barriers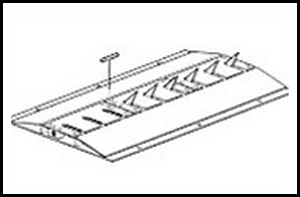 The TC8 is designed to mount on an existing drive or ramp (concrete or asphalt) with bolts or epoxy to eliminate excavation and drainage problems. By installing units end to end, any width driveway can be controlled.