Round Guard Booths
There are areas where the typical square guard booth design will not work. With full round or half round guard booth buildings, you can conform to the island design, giving a full view with no corner post interruptions. These rounded buildings come with swing or sliding doors. Pre-wired to N.E.C. (125 AMP, 120/240 Volt, 6/12 station, single phase), Delta guard booths are fully assembled and ready for service.
Guard Booths for Many Applications
These pre-assembled round guard booths are used to protect individuals and staff at government and military installations, airports, theme parks, stadiums, manufacturing facilities, parking facilities, fueling stations, or anywhere a secure entry point is essential.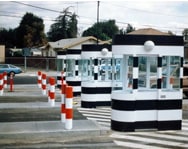 Specifications & Resources
Specification For Round Guard Booths
Other Guard Booths
Self-contained, prefabricated, pre-wired and UL-listed, the BioBooth mail screening booth has been designed for inspectors to safely receive and open mail, isolating the rest of the staff and facility from exposure if bio-hazards are suspected.