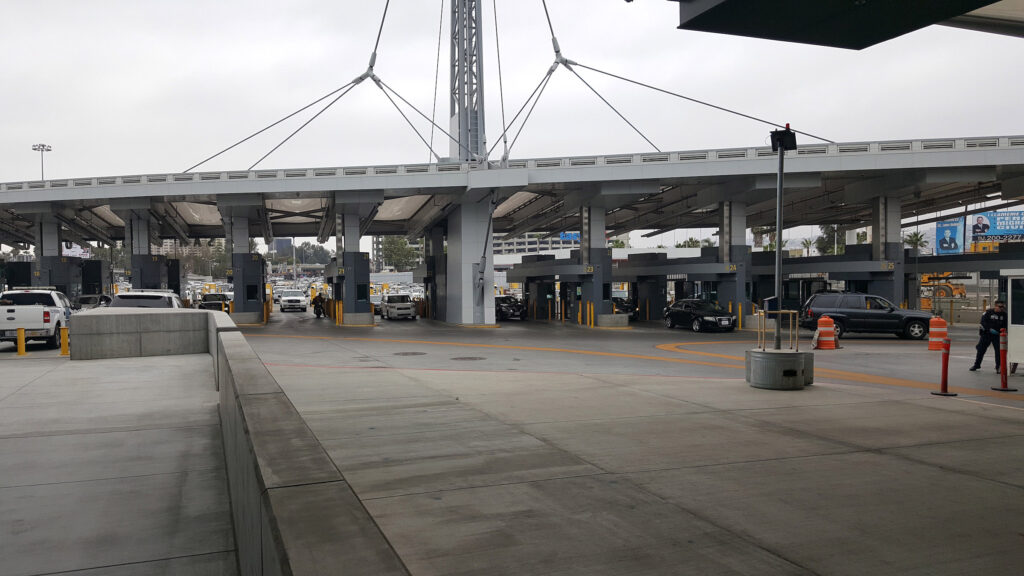 High Security Guard Booths
Border stations, Federal & State buildings, military bases and areas where there can be a "very unwanted guest" are all eligible candidates for Delta High Security Guard Booths.
Shown (right) is a Bullet Resistant Level 4 High Security Guard Booth building produced for the Pentagon. Pre-wired to N.E.C. (125 AMP, 120/240 Volt, 6/12 station, single phase), this fully assembled booth is ready for service. In another instance, in a competitive bid for California's Ontario Airport, Delta Scientific provided two bullet resistant, level 4, prefab 6 x 12-foot booths. Closely coordinated with general contractor Hensel Phelps and inspectors for the City of Los Angeles.
The buildings were manufactured to meet tight specification requirements including structural calculations and wet seals from drawings by a Registered California Structural Engineer.We can also provide levels 1, 2 and 3 to meet your specification requirements. Delta Scientific has been tested and certified to UL752.
Bullet Resistant Level 4 High Security Guard Booth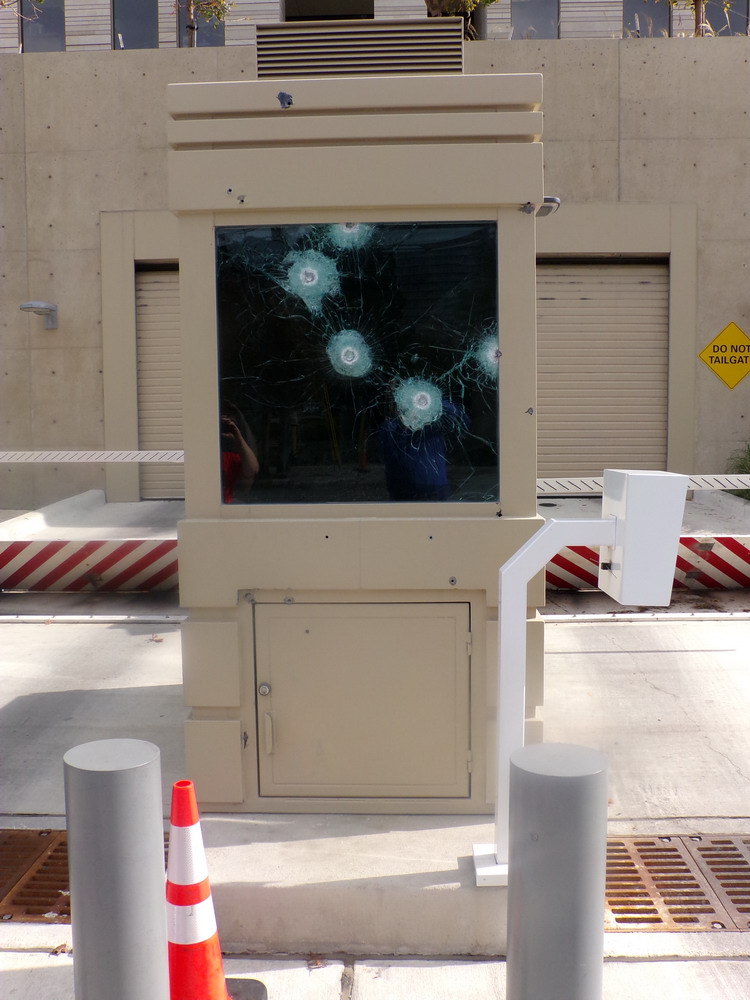 Specifications For High Security Guard Booths
Protection against Level 1 impact, level 2 handgun 9mm or .357, Level 3 handgun .44 mag, 5.5, 12g shotgun and Level 4 and high-power rifle 30.06, 7.62, hand grenade, high explosives, tested and certified UL752.
Glazing to be laminated with polycarbonate or Lexgard laminate clear/tinted with concealed interior fasteners. All structural members meet or exceed ASTM A500. Frame structural tube steel 5/16″ thick, laminated steel panel wall construction with insulation and inner panels (galvanized/pre-primed). Sliding or swing door fabricated from structural steel with heavy duty hardware for bullet resistance.
Heavy duty steel counter with electrical access port. Fluorescent light fixture with (2) 40 watt tubes and a single pole switch. Electrical cabinet with duplex outlets, 125AMP, 120/240 volt, 6/12 station load center and 1500 watt heater.
High Security Guard Booth – U.S. / Mexico Border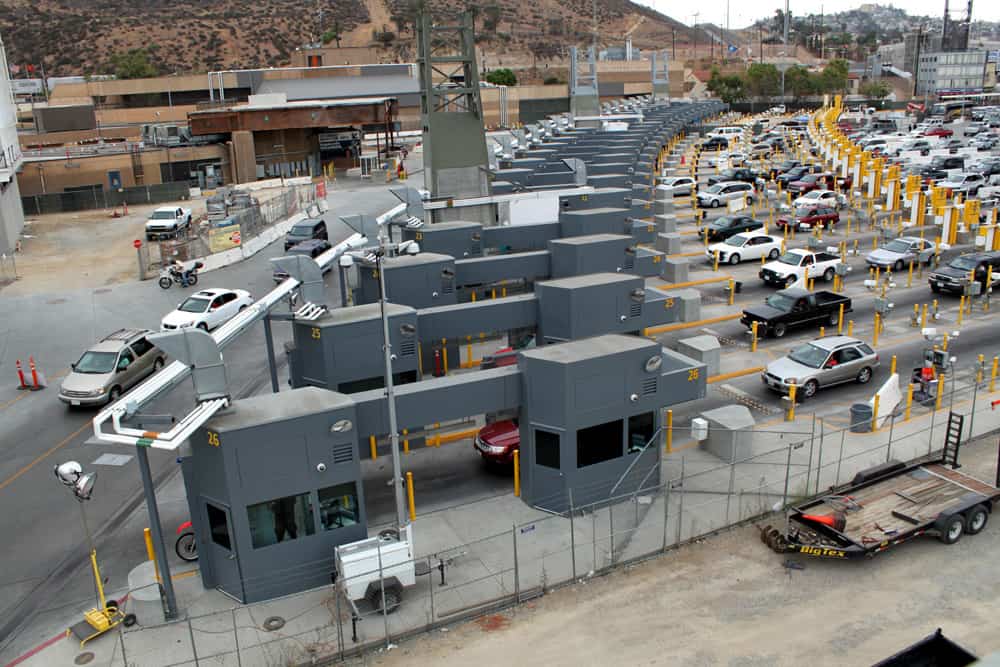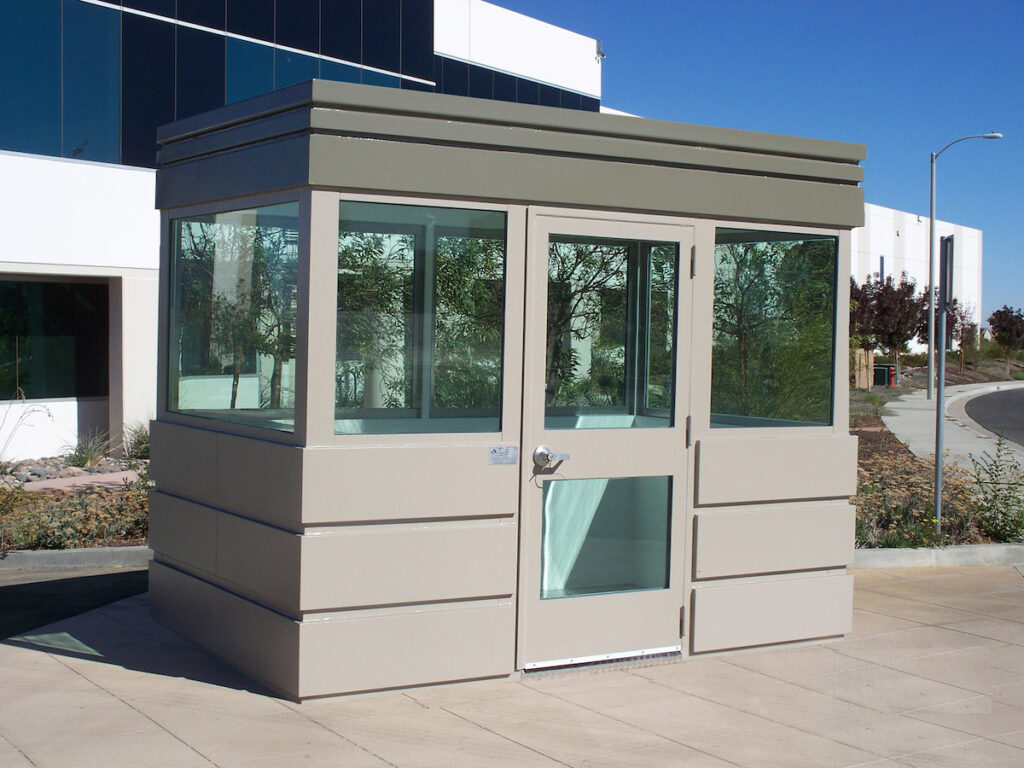 All electrical components will be UL approved and installed in accordance with the N.E.C. Finish will be primed and painted in accordance with the standards established by the Steel Structures Painting Council. All primer to be corrosion resistant with a finish coat of two-component industrial paint.
Finish coat to have good fade, impact and chemical resistance, color selection by customer.
Contact Delta at (661) 575-1100 for any additional design options including air conditioning, sliding windows, insulation, flooring and other special needs.
CK610BR4 (Shown bottom right)
High Security Prefabricated buildings to your specifications, meeting Bullet Resistant Levels 1, 2, 3 or 4 shipped fully assembled and ready for installation.
High Security Guard Booth Installation – San Ysidro, CA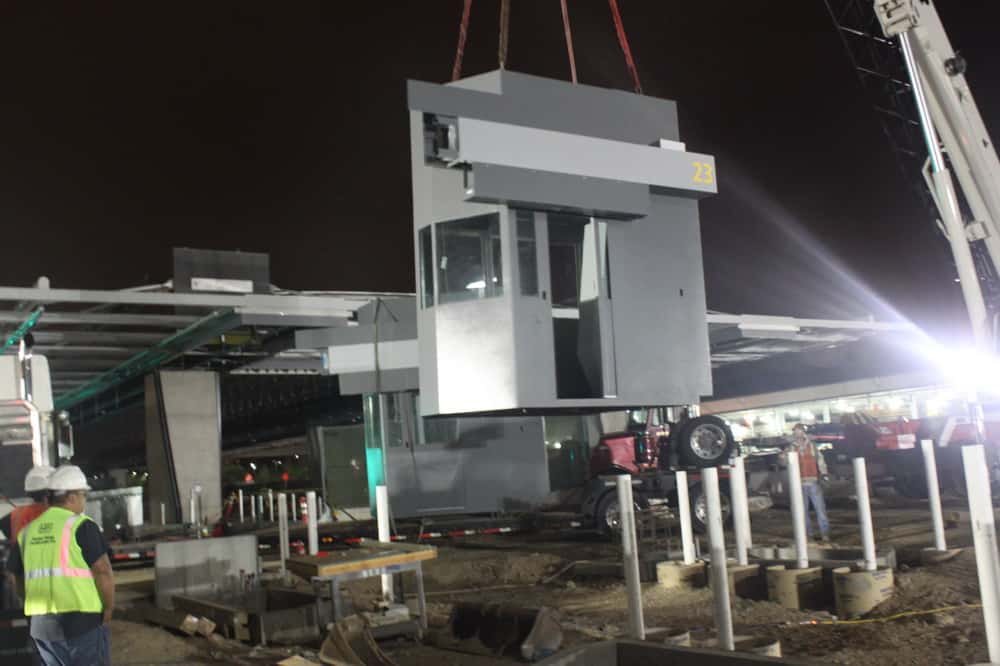 High Security Guard Booth Installation – San Ysidro, CA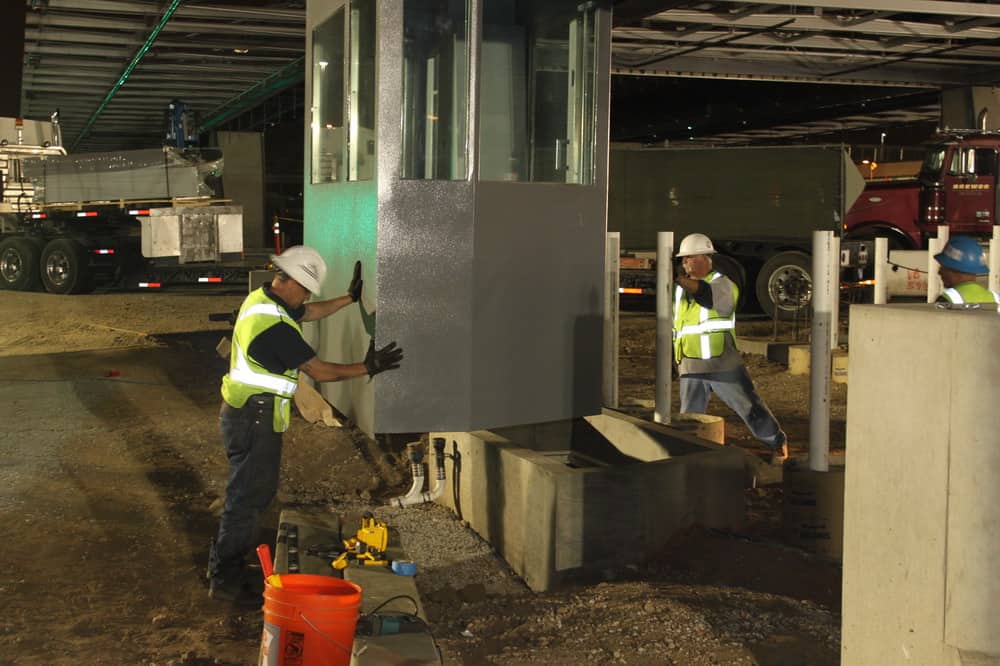 Other Guard Booths
BB10MS Hydraulic Beam Barricade features an integral hydraulic pumping unit with bolt in place cabinet along with a cast in place latch and cable post. The BB10MS is crash rated.