Transit Bus Shelters
These fully assembled ready to use Bus Shelters are attractive and functional.
Delta Scientific's pre-assembled shelters offer an ideal solution for protecting people from rain or other environmental conditions while on breaks or awaiting transit. Multiple applications include transit shelters, bus shelters, passenger shelters, parking lot shuttle shelters and smoking shelters. They are also simple to use. You just place them into position and anchor them to the pad. We provide them with an electrical "J" box for power connection, lights, skylights, benches and program schedule boxes, as required. Delta shelters are a perfect solution for the customer waiting for a bus, rental car or other services.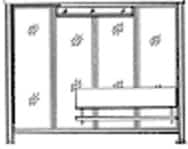 Specifications For Bus Shelters BS Models
Prefabricated shelters are shipped fully assembled and ready for installation. All structural members meet or exceed ASTM A500. Steel tubing to be 2″ x 2″ x .083 and sheet metal 14 GA. CRS (galvanized/pre-primed). Heavy duty steel bench and schedule box. Steel window frames with 1/4″ clear/tinted tempered safety glazing or 3/16 acrylic with concealed interior fasteners. Fluorescent light fixture with (2) 40 watt bulbs, connected to "J" box for connection by others.
All electrical components will be UL approved and installed in accordance with the N.E.C. Finish will be primed and painted in accordance with the standards established by the Steel Structures Painting Council. All primer to be corrosion resistant with a finish coat of two-component industrial paint. Finish coat to have good fade, impact and chemical resistance, color selection by customer.
Contact Delta Scientific at (661) 575-1100 for any additional design options including air conditioning, sliding windows, insulation, flooring and other special needs.
We have 3 models of shelters available:
Other Guard Booths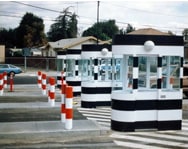 There are areas where the typical square guard booth design will not work. With full round or half round guard booth buildings, you can conform to the island design, giving a full view with no corner post interruptions. These rounded buildings come with swing or sliding doors. Pre-wired to N.E.C. (125 AMP, 120/240 Volt, 6/12 station, single phase), Delta guard booths are fully assembled and ready for service.