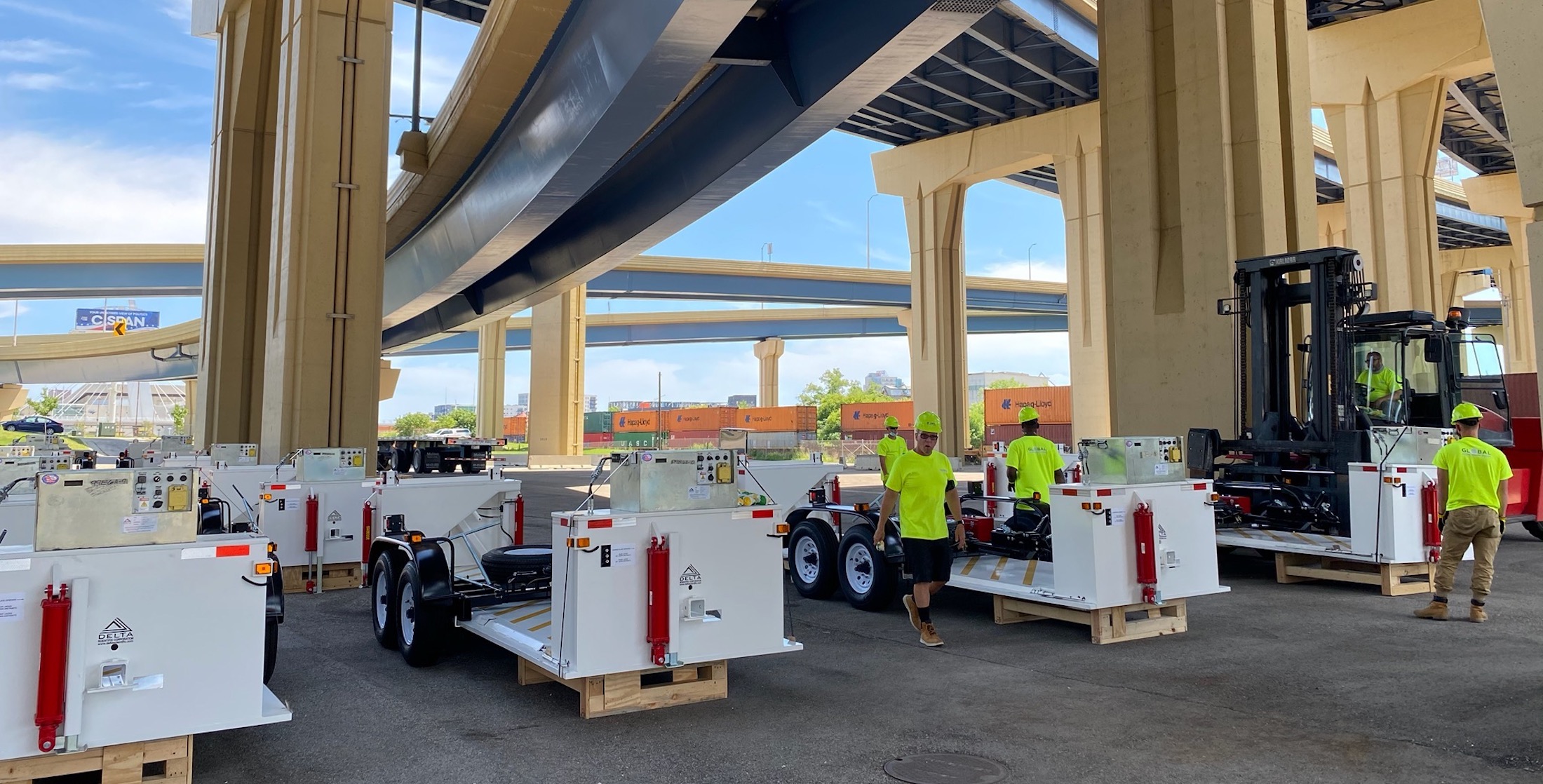 PORTABLE BARRIERS
Portable Barriers & Bollards for Vehicle Security Control
Begin installation in the morning, have protection by lunch.
First used successfully to protect NATO troops in Kosovo and elsewhere, Delta Scientific's quick deployment, modular portable barrier solutions can be rapidly set up on existing concrete or asphalt roads, level compacted soils and other hard surfaces. No excavation or sub-surface preparation is required.
Delta's portable barriers are used around the world. The Social Security Administration temporarily used them to secure its headquarters while permanent Delta stainless steel bollards were being installed. The U.S. Department of State uses them to protect embassies in locations where permanent barricades are not feasible.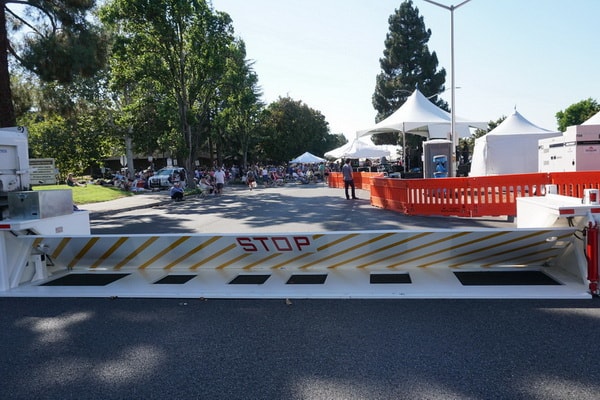 Towable Units
Towable barricades answer the need of Delta clients that require a temporary barricade system to address a specific threat or secure a facility during special events. They can also be used as a more permanent solution with the upgrade to the 24v H8050 HPU which allows for more control options and faster speeds.
Built at the request of U.S. Federal Government Force Protection Specialists for initial fast deployment use in Iraq and elsewhere, the totally self-contained MP5000 is towed into position and controls vehicle access within 15 minutes. Once positioned, the mobile barricade unpacks itself by using hydraulics to raise and lower itself off its wheels. Simply plug in standard 120v or 220v power and you are ready to go. The MP5000 is M40 Certified and comes in lengths of 12', 16' and 20'.
The little brother of the MP5000, the DSC1000, uses the company's "Soft Stop" technology. Light enough to be towed by a golf cart and set up in only 10 minutes, the new DSC1000 portable barrier has already passed an ASTM crash test in which it stopped a 5,000-pound (2300 kg) vehicle going 40 mph (64kph), providing it with an ASTM rating of P50. With no foundation or electrical hook-up needed, two people can set up and take down the DSC1000 in ten minutes. Similarly, the new DSC1500 is Delta's latest portable and easily towable beam barricade that can be set up in ten minutes and stop a 15,000-pound vehicle traveling at 30 mph.
Delta's newer product line of TB100 and TB150 portable bollards also offer M30 and M50 protection with easy setup and maneuverability. They can also be used in conjunction with the MP5000 to provide M50 protection.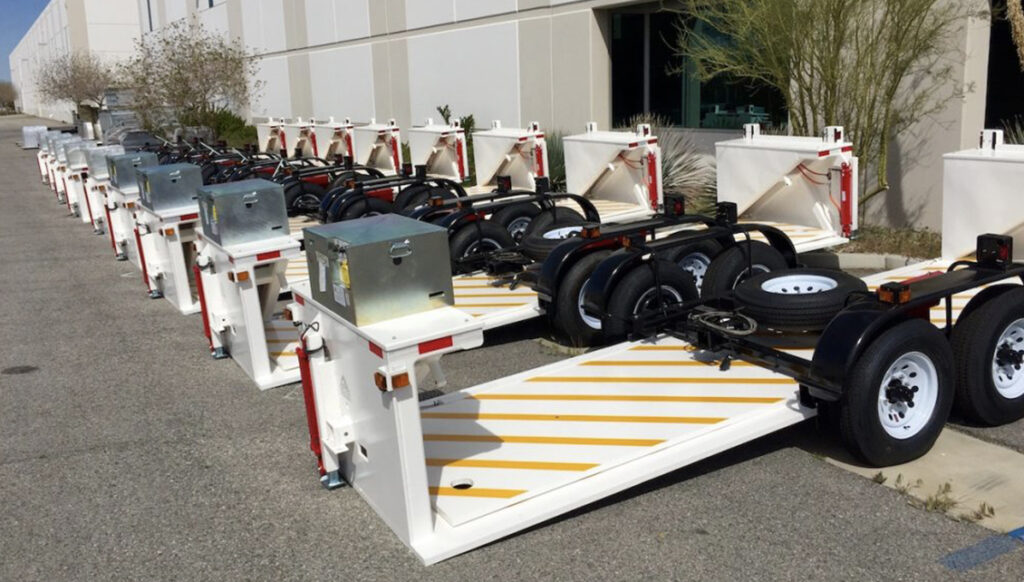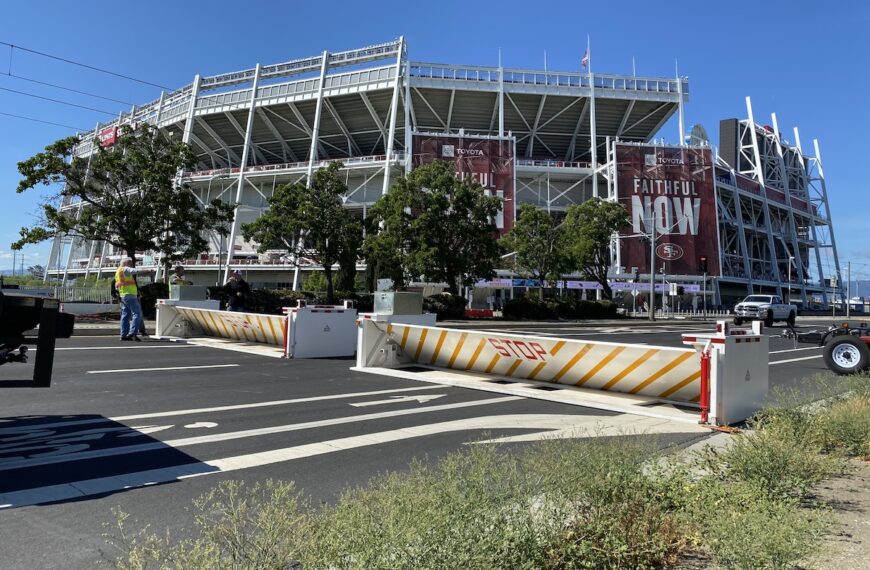 The MP5000 is designed as a towable, rapid deployment vehicle barriers. Installation and setup can be achieved in less than 30 minutes. The MP5000 is available with clear openings of 12', 16', and 20' and carry crash ratings up to M40/K8. Simply plug in standard 120v power to the battery operated HPU and you are ready to run. Don't fret if no power is available as these units can run strictly off the optional solar panel if necessary.
Security News