Get to Know TB100 Portable Bollards from Delta Scientific
By Delta Scientific | October 13, 2022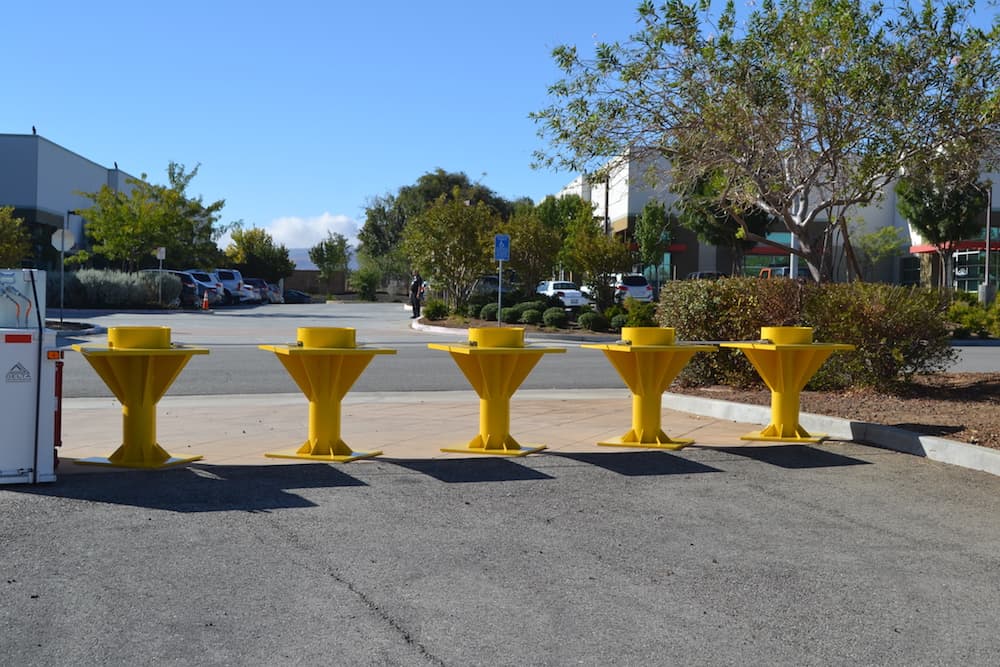 Bollards are short, sturdy posts intended to protect pedestrian areas. Whether a driver accidentally tries to take a wrong turn into an area where people are walking or intends to launch a vehicle attack against people on foot, bollards present a barrier that can deny access and protect pedestrians.
Bollards are traditionally buried partially into the ground. However, if the protection is needed for a short-term special event, permanent installation may not be necessary or even possible. At Delta Scientific, we know that sometimes short-term protection is needed. Therefore, we offer portable bollards such as our TB100 product.
When Would it be Worthwhile to Use TB100 Portable Barriers?
Every community has events such as outdoor festivals or parades in which many people gather together for fun and celebration. Unfortunately, in recent years, these events have become targets for vehicle attacks. Just last year, a vehicle attack at a Christmas parade in Waukesha, Wisconsin, killed five people. Five years prior to that, 12 people died in a vehicle attack at an outdoor Christmas market in Berlin, Germany.
Bollards could prevent tragedies such as these from happening, but installing them permanently for short-term events would be impractical. TB100 portable bollards can be set up and then taken down easily. They can set up on any stable surface, including vegetation or compacted soil in addition to hard surfaces such as asphalt or concrete. They do not require any excavation.
How are TB100 Portable Bollards Set Up?
TB100 bollards are deployed using a self-mover. This is equipped with a jack to lift the bollard up off the ground and wheels to move it to the desired spot. You can cover a span of up to 20 feet with five bollards, and these use a cable system to link them all together.
What is the Crash Rating of the TB100 Portable Bollards?
TB100 portable bollards have been crash-testing according to standards set by the American Society for Testing and Materials. They earned an M30 rating, meaning that they can stop a 15,000-pound truck with a velocity of up to 30 miles per hour. The bollards also have a P3 rating for penetration, meaning that the body of the truck extended over 23.1 feet, an impressive result for bollards that are not buried in the ground but just resting on its surface.
What are Some Other Benefits of the TB100 Portable Bollards?
TB100 portable bollards can be combined with other Delta Scientific products. For example, it could be combined with a portable active barrier, such as the MP5000, so that you can control the flow of traffic into the area while preventing motorists from driving where you do not want them to go.
Another benefit is the different color options. You can choose bollards in one of the following patterns:
White with red stripes
Yellow with black stripes
White with black stripes
White with yellow stripes
Portable bollards are versatile. You can use one to protect a single walkway or several to close off a city street temporarily. They are also good if you need a security solution on an organizational budget. They don't become part of the landscape, so you don't have to pay for them out of your real assets fund.
Sources:
https://apnews.com/article/802641a0498f41f3992874934cba4852
https://www.npr.org/2021/11/23/1058241281/the-suspect-in-the-wis-christmas-parade-attack-has-a-previous-criminal-record
https://www.usace.army.mil/portals/2/docs/protection/dod_anti-ram_vehicle_barriers_january_20141.pdf
https://deltascientific.com/wp-content/uploads/2020/09/90485-100-TB-100-5-BOLLARD-ARRAY-GENERAL-ARRANGEMENT.pdf
https://deltascientific.com/product/bollard-tb100/
Share This Story, Choose Your Platform!