3 Security Solutions for Corporate Headquarters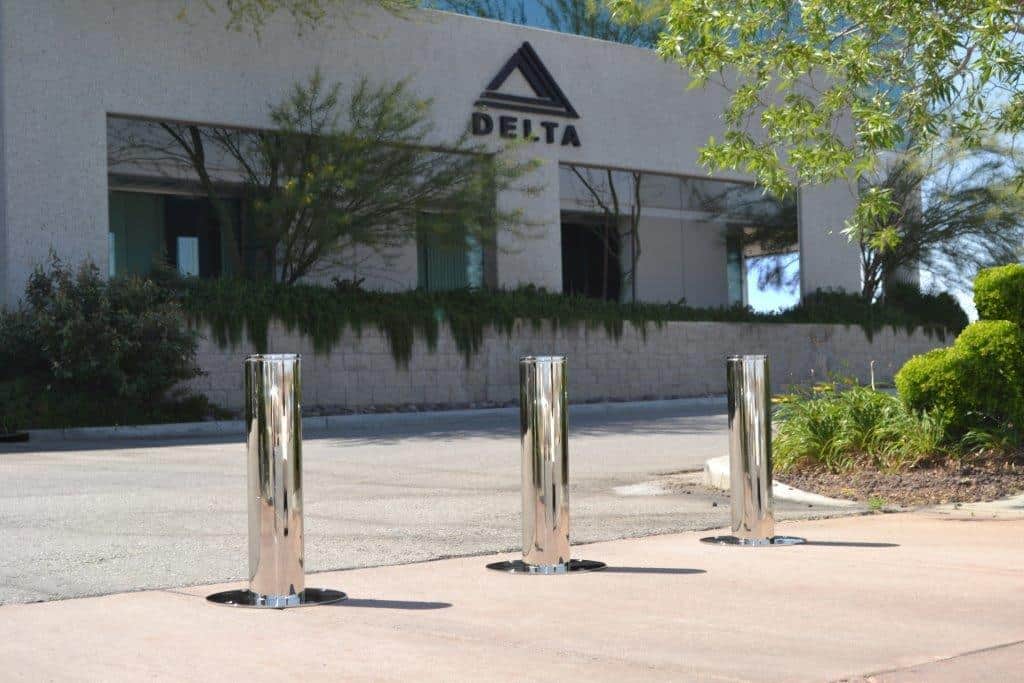 Securing your corporate headquarters is extremely important. The sad truth is that any organization is constantly at risk of terrorism from a disgruntled employee, an angry customer, or extremist activists.
Using vehicles to attack buildings or large gatherings of people has become all too common recently. Tragically, there are many examples of times companies were caught unprepared by terrorists. In June 2018, criminals slammed a van into a major newspaper office in the Netherlands and then set the vehicle on fire. Similar acts have claimed hundreds of lives in Europe alone over the past couple of years.
Thankfully, steps can be taken toward preventing loss of lives and costly property damage caused by both incidental and intentional vehicular incidents. Delta Scientific Corp. produces, installs, and maintains high-quality barrier systems trusted by major corporations and government facilities all over the world. Here are some solutions we offer to help protect headquarters.
Gates and Barricades
Installing a gate or barricade allows you a high level of access control. Delta Scientific can safeguard your headquarters with the same equipment used by military bases. Here are some of the gate and barricade categories available:
Beams: A single bar that blocks an entry point. The DSC7500, for example, can stop large vehicles accelerating at up to 50 mph.
Ground level: Surface-mounted and shallow-foundation wedge options and more furnish crash-rated security.
Gates: Both sliding and swing gates provide military-grade crash defense. Also, the SC3000S rolling gate is ideal for higher security.
Bollards
Gates and other barriers cover the point of entry, but what about the rest of the perimeter? It's not always possible or aesthetically desirable to surround a corporate building or parking lot with walls or crash-rated fencing. That's where bollards come in.
Installing bollards around parking lots or sidewalks is essential, even if you already have gates and other barriers. These solid posts can save lives from an accident or attack by a passerby on a public road or someone authorized to get through your gate. Delta Scientific has a variety of models, including stationary pieces and ones that can be raised and lowered.
Early Detection Technology
If it's in your corporation's budget, an early warning system could be well worth the investment. Camera's linked to alarms enable security personnel to react to potential danger by raising barriers or closing gates. Here is some of what this technology is capable of detecting:
Vehicles accelerating at a predetermined speed
Vehicles operating in the wrong lane
Vehicles quickly passing from zero-visibility positions
Government and private customers with some of the highest-level security needs in the world, such as ExxonMobil, have trusted Delta Scientific. We can even customize many of our products to deliver exactly what you need.
Sources:
https://www.bbc.com/news/av/world-europe-44619097/de-telegraaf-attack-car-rams-dutch-newspaper-officehttps://edition.cnn.com/videos/world/2018/08/14/london-westminster-vehicle-attack-jba-lon-orig.cnnhttps://www.telegraph.co.uk/news/0/westminster-nice-vehicle-rampage-attacks-uk-europe/http://www.rmmagazine.com/2014/09/01/crash-course-the-overlooked-threat-of-vehicle-into-building-accidents/
Share This Story, Choose Your Platform!