TT218 Beam Barricades
The TT218 Beam Barricade Swing Gate is used at locations where vertical lifts are impractical. It provides clear opening ranges from 10.5 to 24 feet (3,200 mm to 7,315 mm.) Operation is manual.
Specifications & Resources
TT218 General Arrangement
TT218EC General Arrangement
TT218 Cable Chain Brochure
Other Beam Barricades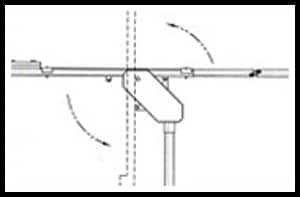 The MG137 and MG139 Manual Gates are designed for security applications where the frequency of use does not require an automatic barrier, yet a chain or swing gate is impractical or unsightly. The MG137 features a 2-inch square steel arm while the MG139 features a 3.5-inch round arm.