Spotlight on Our New DSC550 Shallow Foundation Barricade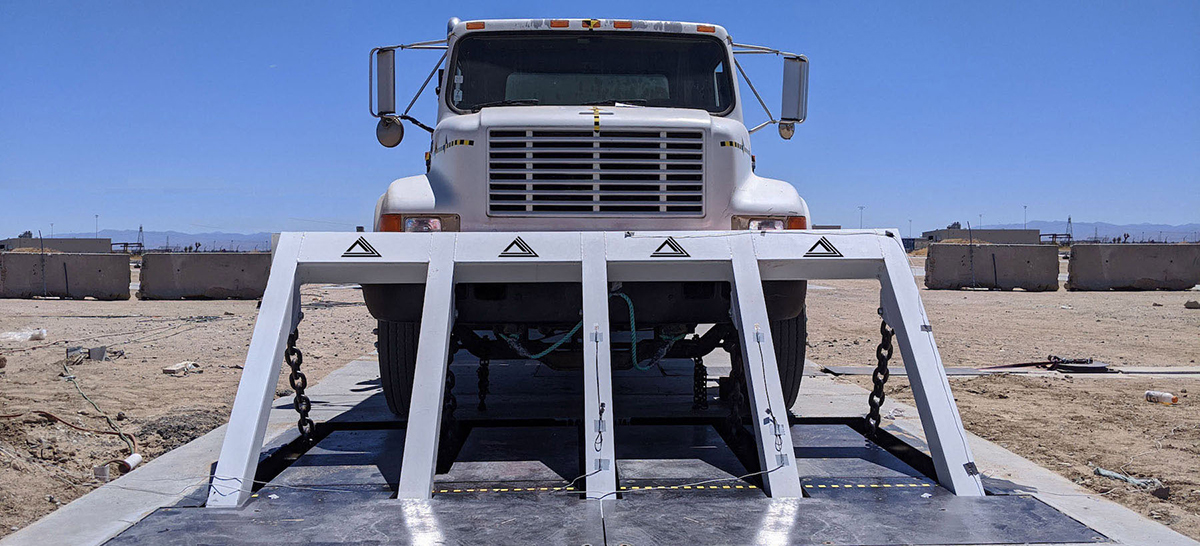 With new security threats rearing their heads on a regular basis, you may require a new security solution for an existing venue. Unfortunately, when the building is already established, it can be difficult to dig the deep foundation required for some barricades due to the presence of fiber optic cables, pipes, and power lines buried underground.
At Delta Scientific, we understand the challenges of implementing an adequate security barricade in the presence of such obstacles. That's why we have offered portable and shallow foundation barricades for some time that are as effective as our more traditional models. We are excited to introduce our newest shallow foundation barricade, the DSC550. It has a number of qualities that make it a viable security solution for your facility.
Height and Depth
When deployed, the height of the DSC550 is one meter, or approximately 41.5 inches. The foundation, on the other hand, extends only 24 inches, or two feet, underground. This makes it ideal for facilities that need strong, effective protection from attacks by a speeding vehicle but cannot dig too deep to lay the foundation.
Emergency Fast Operation
There are two versions of the DSC550: One that operates via hydraulics and one that uses an electro-mechanical system. Each offers emergency fast operating speeds of 0.75 seconds for the former and 1.5 seconds for the latter. This is important because, when faced with an attack from a speeding vehicle, a quick response is crucial. The DSC550 touchscreen controls are also easy and intuitive to use, which also helps to improve response time.
Tested Performance
We tested the DSC550 according to the F2656-20 M50 standard of the ASTM. This is a much more stringent standard than those that came before. Not only was the DSC550 effective at stopping a heavily loaded truck at high speeds, the force of impact destroyed the vehicle. Penetration was negative at -0.36 meters.
Durability
The DSC550 demolished the truck that collided with it, to the point that it was no longer drivable and had to be towed away. As expected, the barricade itself sustained some damage as well. Nevertheless, it was still able to deploy successfully and provide protection in the event of a second onslaught.
This is very important to you as the end user who needs to rely on the DSC550 to protect your facility. People planning an attack do not tell you of their plans beforehand. They want to take you by surprise. They may assume that after the first attack you are vulnerable to another, more damaging onslaught. Because of its durability and continued deployability, the DSC550 can continue to protect you from multiple attacks.
Counter-Balance Design
The DSC550 requires less maintenance than similar barricades. This is because it does not require springs or mechanical assists to deploy. Rather, it operates with a unique counter-balance design. This is possible because of the format of the open frame.
Even if there are obstructions underground that prevent you from laying a deep foundation for a barricade, the DSC550 still offers you effective protection. You can enjoy peace of mind knowing that an attack from a heavily loaded vehicle is likely to turn out much worse for the vehicle and the attackers than for you, your workers, and the public.
Sources:
https://deltascientific.com/wp-content/uploads/2020/09/Delta-DSC550-Shallow-Open-Frame-Broch-091520.pdf
https://deltascientific.com/wp-content/uploads/2020/09/DSC-550-Procurement-Specification-Rev-2.pdf
Share This Story, Choose Your Platform!