Bollards Provide Aesthetically Pleasing Protection to Public Buildings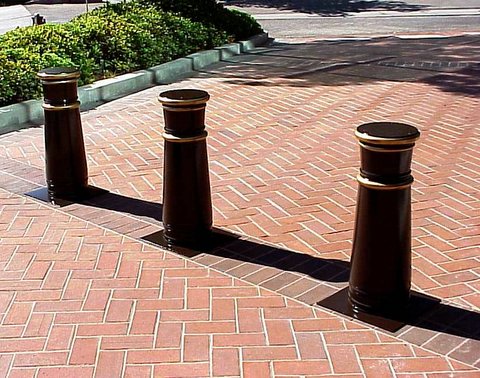 The last six years have seen an alarming trend, both in the United States and abroad, in terroristic attacks using motor vehicles as weapons. These attacks have involved cars and trucks barrelling into large crowds, pedestrian areas, and college campuses. Potentially any soft target, such as sports stadiums, community centers, and government buildings, could see a vehicular attack.
Buildings such as these are also designed with a specific aesthetic in mind. Security barriers can sometimes disrupt this aesthetic, which can affect the feelings of people who frequent these areas for work or recreation, causing them to feel threatened or uneasy. High-security bollards from Delta Scientific can preserve a building's existing aesthetic while providing effective protection against vehicle attacks.
How Can a Vehicle Be Used as a Weapon?
One way of weaponizing a vehicle is to fill it with explosives and then park it as close to the targeted building as possible. This was the technique used by Timothy McVeigh and his co-conspirators during the attack on the Murrah Federal Building in Oklahoma City in 1995. It still has the potential to cause devastation.
However, since 2010, it has become more common for terrorists to forgo the explosives and use vehicles to simply run over civilians. Increased incidents of this nature seem to relate back to an article in a magazine published by al-Qaeda titled "The Ultimate Mowing Machine." However, not all vehicle attacks of this nature are the work of Muslim extremists. The attack on anti-racist counter-protesters in Charlottesville, Virginia, in 2017 involved an alleged white nationalist in a sedan.
Manufacturers are looking for ways to make cars self-driving through automation. Though the goal is fewer motor vehicle accidents by eliminating driver error, automated cars would have to be highly computerized, which could make them vulnerable to hackers. A terrorist could load a car with explosives and send it to a target by remote control or, more frighteningly, take control of vehicles on the road and drive them into targets, perhaps with terrified passengers still inside.
What Are the Advantages of High-Security Bollards?
At only 39.3 inches high and 13.25 inches in diameter, bollards are less obtrusive than many high-security barriers. Nevertheless, they are effective at protecting buildings and pedestrians from vehicle attacks. At a minimum, our security bollards meet certifications set by the U.S. Department of Defense, as well as the State Department.
Another advantage of Delta Scientific bollards is that you can customize them to fit the design aesthetics of your building. We offer cast covers that slip easily over the crash tube in a variety of materials:
Brushed stainless steel
Fiberglass
Aluminum
Another available customization option is a rolled bronze plaque featuring your organization's logo that can be mounted on the body of the bollard. To increase visibility, we also offer internal warning lights for our crash-rated bollards.
What If Deep Excavation Is Not Possible?
On an existing property, it may not be possible to excavate down to the four feet required for many bollard installations. Fortunately, Delta Scientific also offers shallow foundation bollards. These require a foundation of only 12 to 14 inches deep but can stop a 15,000-pound vehicle traveling up to 50 miles per hour. In some instances, the penetration of the vehicle is less than 39 inches, or one meter, from the point of impact.
Sources:
https://www.cnn.com/2017/03/22/world/vehicles-as-weapons/index.html
https://www.sfchronicle.com/business/article/How-self-driving-cars-could-become-weapons-of-9958541.php
https://www.bloomberg.com/news/articles/2013-08-05/when-a-car-becomes-a-weapon
https://www.fbi.gov/history/famous-cases/oklahoma-city-bombing
Share This Story, Choose Your Platform!