A Portable, Flexible, and Temporary Barrier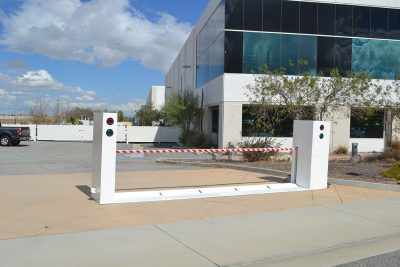 If you need a barrier to limit road access, the first thing you probably think of is a permanent structure with a bar to block cars. With this image comes a significant price tag and a construction project spanning multiple days or weeks to install the barricade. These aspects may seem like an essential part of setting up a barrier, but there is an alternative. The Portable Beams Barriers DSC1500 from Delta Scientific offers all the security of a permanent fixture, although it is also portable which makes it perfect for temporary barricade needs. The DSC1500 is:
Certified with the U.S. Department of State
Quick and easy to install and tear down
Able to stop vehicles up to 15,000 pounds going up to 30 mph
A Solution for Temporary Needs
The most common use for the DSC1500 portable barrier is events. It is absurd to consider installing a permanent barrier for a weekend concert or similar events, but you can still control traffic and parking using our barrier. Another common use is for during maintenance or construction on an existing parking lot. You can set it up for your temporary off-site parking and then just haul it away when you have use of your regular parking again. Avoid the cost and hassle of excavation entirely. However, the fact that it is temporary should not dissuade you. The DSC1500 is heavy-duty and capable of preventing any vehicle from passing.
How it Works
The DSC1500 is designed to be easily hauled. It attaches to standard trailer hitches and its light weight makes it easy to transport. First, you need to tow it into position. Within 10 minutes, you can have the barrier set up. Using manual hydraulics, it comes off the wheels and secures itself in place. The attached trailer has everything you need, including an integrated lifting device. Tearing the barricade down is just a simple. The process is reversed, taking just as little time, and then you can tow it away.
Because the DSC1500 is perfect for temporary uses, we offer lease plans so you can save even more money. No need to pay to own it if you only need it for a few weeks or months. However, the portable barrier can also be useful to own so you can deploy it wherever it is needed at a moment's notice. It is perfect for:
Securing temporary parking
Short-term events
Managing multiple parking lots
Delta Scientific has a wide range of barriers, so if the DSC1500 does not meet your needs, we are confident one of our other security barriers will.
Share This Story, Choose Your Platform!