Press Release October 15, 2019
Delta Barrier Stops Yet Another Intruder at Naval Air Station – Corpus Christi
8 Months Later, Delta MP5000 Portable Barrier Does Its Job Again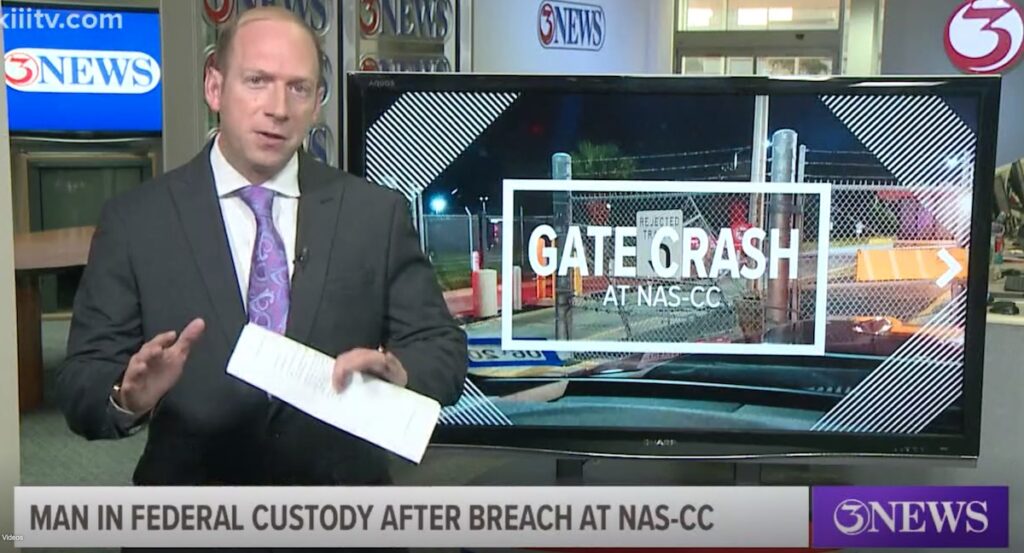 PALMDALE, CALIF. – October 15, 2019 – Delta Scientific, the leading manufacturer of counter-terrorist vehicle control systems used in the United States and internationally, today announced that, on Monday, October 7, at approximately 7 am, a Delta MP5000 portable barrier stopped a stolen Dodge Ram pick-up truck at an entrance gate of the Naval Air Station – Corpus Christi. The stolen car was chased by the local police onto the base.
At that point, the Air Station announced that an unauthorized person was on base and the facility immediately would go under lockdown with all gates secured to all traffic. Having taken flight after the truck was stopped by the barrier, the intruder was quickly apprehended within the hour and taken into custody by the Bureau of Alcohol, Tobacco, Firearms and Explosives.
"This is the second attempted intrusion into the Naval Air Station – Corpus Christi in eight months," explained Greg Hamm, Delta vice president of sales and marketing. " On February 14, a Delta MP5000 portable barrier stopped a stolen Ford Edge crossover SUV at the North Gate. The trespasser had driven across the base to escape but crashed into the Delta unit and erupted into flames. The driver was shot and killed."
Delta's totally self-contained MP5000 mobile deployable vehicle crash barriers now carry an ASTM rating as high as M50, able to stop and disable a 15,000 lb (66.7 kN) G.V.W. vehicle moving at 50 mph (80.4 kph). They tow into position to control vehicle access within 15 minutes. No excavation or sub-surface preparation is required. Once positioned, the mobile barricades will unpack themselves by using hydraulics to raise and lower the barriers off their wheels. DC-powered pumps will then raise or lower the barriers. Once the event is over, procedures are reversed and the barriers are towed away.
About Delta:
Delta Scientific Corporation is the leading manufacturer of vehicle access control equipment with over 260,000 square feet of production facilities in Palmdale, Calif. Delta's three product lines consist of high-security vehicle barricade systems, parking control equipment and guard booths. Delta Scientific has been engineering and manufacturing vehicle access control equipment since 1974 and sells its products worldwide.
Corporate headquarters, equipment sales, systems engineering and technical service are located at 40355 Delta Lane, Palmdale, Calif.93551. Phone is (661) 575-1100. Website is deltascientific.com.  Product installation and maintenance services are provided through Delta's Tampa, Fla. office.
For More Information: