DSC501 Wedge Barricade – High Security Barricade
The Ultimate in Stopping Power
Certification Level: K-12 Crash Rating – Now Certified to K-54!
Certified by: U.S. Department of State
Installation Design: Shallow Foundation Barrier
Model #: DSC501
Advanced counter-terrorism wedge barrier system for sub-surface conditions that negate extensive excavations.
K54 testing exceeds government levels… The DSC501 not only stopped and destroyed a 65,000-pound (5.4 million foot-pounds) dump truck but the barricade continued to stand, preventing a potential second attack. The foundation was undamaged.
K12/L3 certification meets government's highest levels…exceeds Department of State and Department of Defense requirements.
In the United Kingdom, the DSC501 high security barricade has also been tested to stop a 7,500 kg (16,500 pound) vehicle traveling 80 kph (50 mph), meeting the BSI standard PAS:68 2007.
Hill Air Force Base DSC501 High Security Barricades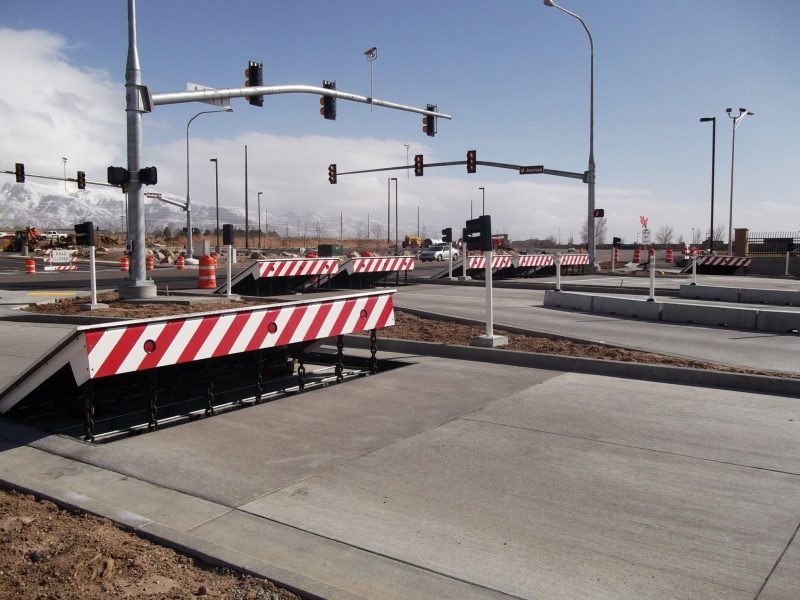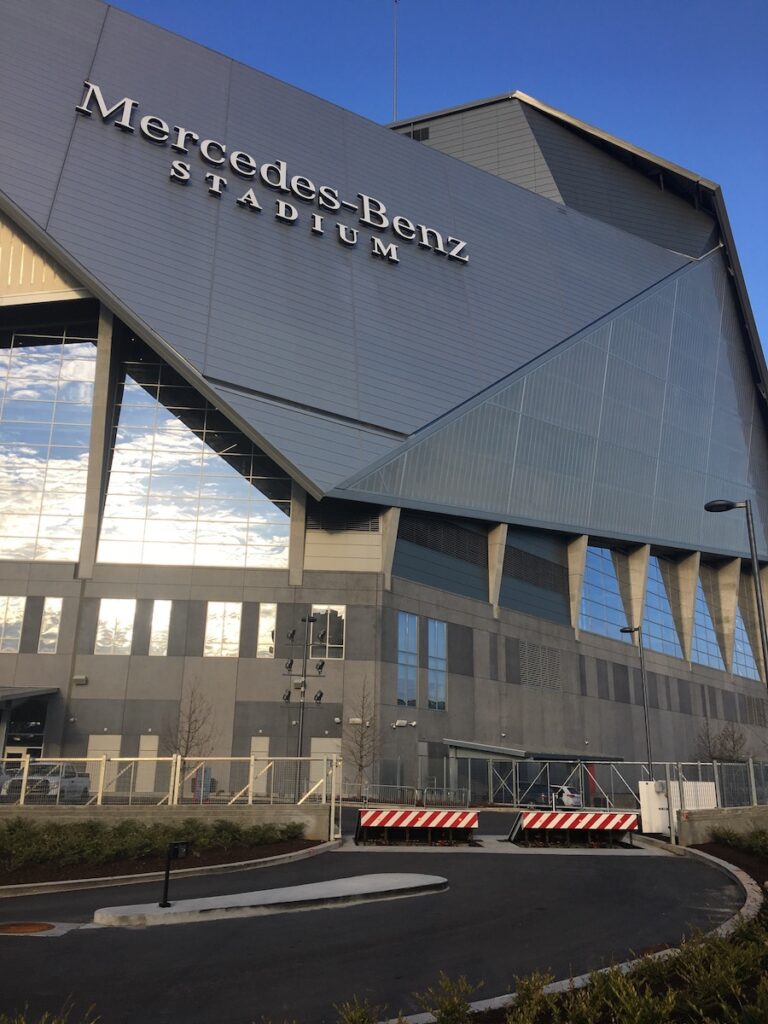 This high security barricade was designed for the U.S. Navy and has also been selected for use at U.S. Embassies. Set in a foundation only 18 inches (46 cm) deep, the Delta DSC501 is able to survive and operate after a 1.2 million foot pound impact. Upon extracting the truck after its crash test, the barricade was fully functional and performed a resounding 27,000 cycles with no wear!
With its shallow foundation and aesthetic design, it is a major breakthrough in high duty, anti-terrorist barricades. It obviates the concerns of interference with buried pipes, power lines and fiber optic communication lines. The shallow foundation also reduces installation complexity, time, materials and corresponding costs.
The DSC501 is suitable for high water table locations and areas with corrosive soils. Front face warning lights warn drivers that the barricade is in the "up" position. There is also an open area on the front for signage. Diagonal yellow and white stripes are standard and optional colors and graphics are available. The open channel construction even lets you specify hot dip galvanizing.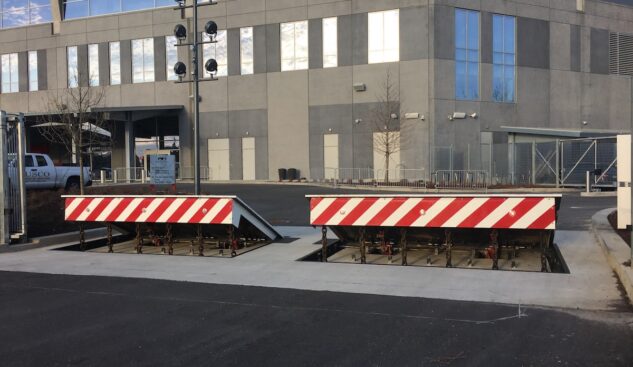 Second Strike Capability
The DSC501– K54 Crash Tested Barricade System has been tested in full scale configuration and has demonstrated its ability to stop and destroy a fast moving heavily loaded truck (weigh 65,000pounds –collision speed 50 MPH). The Barricade System survived the K-54 impact with all major elements intact – the Barricade System was repaired and operating in 3 hours.
UNITED KINGDOM CRASH TEST
The DSC501 has been tested to the United Kingdom BSI Standard PAS:68 2007 Crash Test. 7.5 Tonne EU truck at 80 kph. Zero penetration and fully functional after the vehicle was removed. Second attack readiness demonstrated. Passed Test.
n the lowered position, the DSC501's barrier ramp is completely flush with the roadway. Buttresses, counterweights and road plates do not obstruct authorized pedestrian or vehicular traffic.
The DSC501 is raised and lowered to and from the guard position via hydraulic cylinders driven by Delta's patent-pending hydraulic power unit. This unit can be configured to operate one or more DSC501's and provide pass-through rates of 3 to 15 seconds, suitable for most inspection and identification station requirements. However, when danger is imminent, the barricade rises in less than 2 seconds!
A vehicle detector safety loop is available.
Certified by
U.S. Dept. of State/U.S. Dept. of Defense
Certification Level
K12, L3
Fully Operational after Successful Vehicle Stop
Gross Vehicle Weight
15,000 pounds/66.7 kN@
Crash Speed
50 mph/80kph
Capable of Stopping and Destroying a Vehicle
Gross Vehicle Weight
20,000 pounds/88.9 kN@13,200 pounds/58.7 kN@
Crash Speed
70 mph/113 kph 85 mph/137 kph
Test Level
K54
Gross Vehicle Weight
65,000 pounds/29,484 kg
Crash Speed
50 mph/80 kph
DSC501 High Security Barricade After Crash Test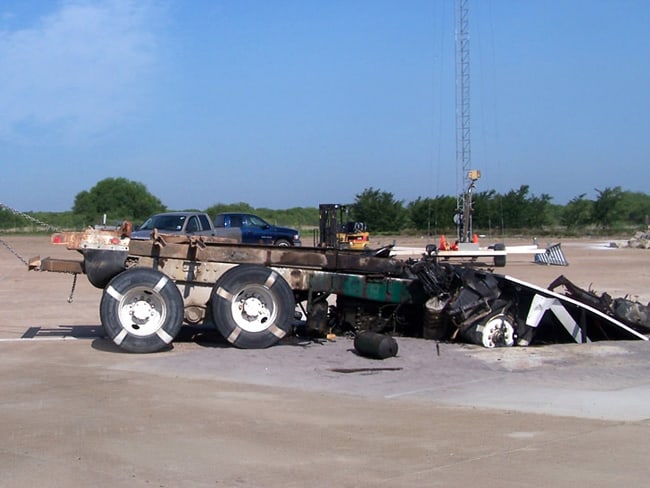 Delta Scientific: DSC501 Barricade Maintenance Overview
Specifications & Resources
DSC501 General Arrangement
Drawing
DSC501 Foundation Drawing
DSC501 Procurement Specification
Other Wedge Barricades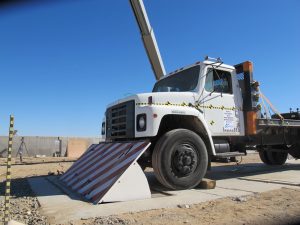 The breakthrough HD200, was built for high traffic locations requiring rapid emergency fast operation (EFO) rates and open/close cycles. With a 0.63 second EFO and a 2-5 second normal operation rate, the HD200 is the fastest operating standard vehicle barrier in the market.