Press Release September 15, 2020
Delta Scientific Introduces New 'Open Frame' Vehicle Barrier
DSC550 Meets New ASTM F2656-20 Standard at M50/P1 with -0.36 Penetration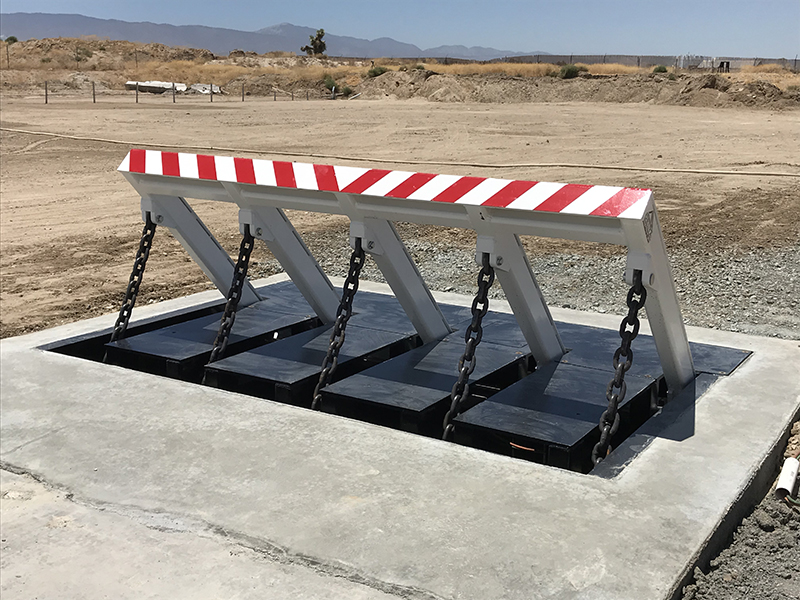 FOR IMMEDIATE RELEASE
PALMDALE, CALIF. – September 15, 2020 – Delta Scientific, the leading manufacturer of counter-terrorist vehicle control systems used in the United States and internationally, today announced the new shallow foundation M50/P1 DSC550 Open Frame vehicle barrier. The DSC550 was tested to the new ASTM F2656-20 standard which measures the penetration level from the leading edge of the barrier versus the back-side of the barrier like the previous standard. This can provide a difference of up to five additional feet (1.52 m) and makes the negative penetration level even more impressive.
The DSC550 Open Frame barrier features a shallow foundation of only 24 inches (61 cm). The open frame design additionally provides a unique counter-balance design with no springs that need extra maintenance. The DSC550 alleviates the concerns of interference with buried pipes, power lines and fiber optic communication lines in urban applications. The shallow foundation also reduces installation complexity, time, materials and corresponding costs. The DSC550 is perfect for high water table locations and areas with corrosive soils.
"Delta is excited to offer multiple hit capabilities in an open frame barrier design," stresses Keith Bobrosky, Delta Scientific senior vice president. "The barrier was fully operational after the force of the M50 impact. The fact that no-assist devices are used to operate this electro-mechanical barrier is something totally new to the industry. In addition, little rebar is needed in the very small foundation is a win for integrators trying to earn a solid margin while installing the DSC550 and a win for the end user with little disruption during installation."
The new DSC550 provides an emergency fast operation of 1.5 seconds for electro-mechanical and .75 seconds for hydraulic operations. This allows a guard to quickly react to a perceived threat with the peace of mind knowing the barrier will deploy in a rapid manner under the most demanding scenarios. The DSC550 also provides intuitive touchscreen controls with data-logging and custom programming.
About Delta:
Delta Scientific Corporation is the leading manufacturer of vehicle access control equipment with over 260,000 square feet of production facilities in Palmdale, Calif. Delta's three product lines consist of high-security vehicle barricade systems, parking control equipment and guard booths. Delta Scientific has been engineering and manufacturing vehicle access control equipment since 1974 and sells its products worldwide.
Corporate headquarters, equipment sales, systems engineering and technical service are located at 40355 Delta Lane, Palmdale, Calif.93551. Phone is (661) 575-1100. Website is deltascientific.com.  Product installation and maintenance services are provided through Delta's Tampa, Fla. office.
For More Information: