Press Release May 27, 2020
Delta Barrier Stops 3rd Intruder at Naval Air Station – Corpus Christi in 15 Months
Delta MP5000 Portable Barrier Does Its Job 3 Different Times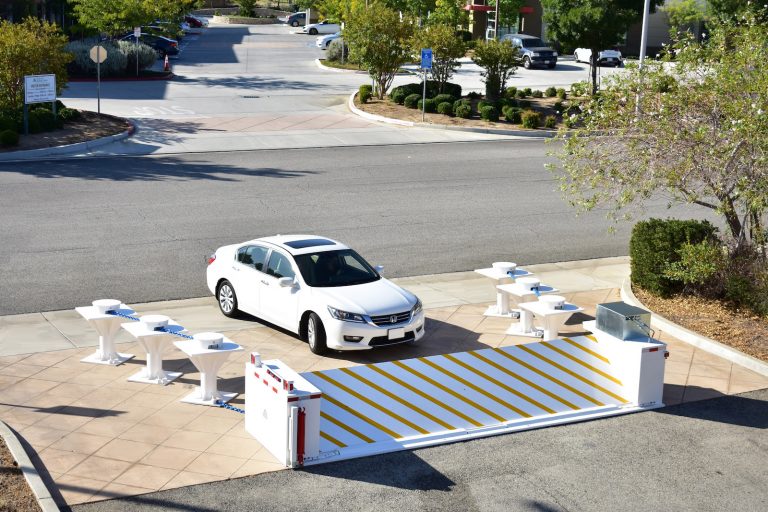 FOR IMMEDIATE RELEASE
PALMDALE, CALIF. – May 27, 2020 – Delta Scientific, the leading manufacturer of counter-terrorist vehicle control systems used in the United States and internationally, today announced that, on Thursday, May 21, just after 6 am, a terrorist tried to speed past a Delta Scientific MP5000 portable barrier onto the Naval Air Station – Corpus Christi. The intruder shot at the gate's base security sailor but struck her bullet-resistant vest. According to the Associated Press, the sailor, who survived, then rolled over and hit the switch that raised the barrier, preventing the terrorist from gaining access to the base.
"Our Delta portable barrier has protected the men and women serving the Naval Air Station – Corpus Christi from the potential dangers of unauthorized vehicle intrusion three times in the past 15 months," stresses Greg Hamm, Delta vice president of sales and marketing. "On February 14, 2019, our portable barrier stopped a trespasser who had driven across the base to escape but crashed into the Delta unit and erupted into flames. Later last year, on October 7, 2019, the portable barrier stopped a stolen pick-up truck at the entrance gate. Last Friday's attack, involving a terrorist, was only six months later."
Delta's totally self-contained MP5000 mobile deployable vehicle crash barriers now carry an ASTM rating as high as M50, able to stop and disable a 15,000 lb (66.7 kN) G.V.W. vehicle moving at 50 mph (80.4 kph). They tow into position to control vehicle access within 15 minutes. No excavation or sub-surface preparation is required. Once positioned, the mobile barricades will unpack themselves by using hydraulics to raise and lower the barriers off their wheels. DC-powered pumps will then raise or lower the barriers. Once the event is over, procedures are reversed and the barriers are towed away.
In many situations, such as at the air base, the temporary barriers provide more flexibilities than a permanent solution. In addition, Delta always keeps an inventory of the MP5000s for purchase and quick delivery at their manufacturing facility in Palmdale, Calif. In many cases, they are needed for events that come up quickly, such as political or celebrity visits and other unexpected incidents.
About Delta:
Delta Scientific Corporation is the leading manufacturer of vehicle access control equipment with over 260,000 square feet of production facilities in Palmdale, Calif. Delta's three product lines consist of high-security vehicle barricade systems, parking control equipment and guard booths. Delta Scientific has been engineering and manufacturing vehicle access control equipment since 1974 and sells its products worldwide.
Corporate headquarters, equipment sales, systems engineering and technical service are located at 40355 Delta Lane, Palmdale, Calif.93551. Phone is (661) 575-1100. Website is deltascientific.com. Product installation and maintenance services are provided through Delta's Tampa, Fla. office.
-30-
PHOTOGRAPH: A high-resolution downloadable photograph of an MP5000 is available at http://brighamscully.com/photos/de/Clean2%20DSC_0358HI.jpg.
For More Information: