Press Release April 13, 2015
Delta Scientific Wins "Govies" Government Security Award
Delta Scientific, Delta HD300 Shallow Foundation Vehicle Crash Barrier Gets "Govie" for Green/Sustainable Solutions and Products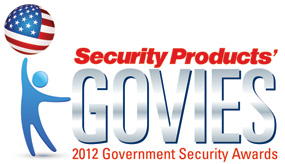 FOR IMMEDIATE RELEASE
PALMDALE, CALIF. – April 13, 2015 – Delta Scientific, the leading manufacturer of counter-terrorist vehicle control systems used in the United States and internationally, today announced that Security Products magazine and its sister website Security-Today.com have honored Delta's HD300 barrier, that will stop a 15,000 pound (66.7 Km) vehicle traveling 50 mph (80 kpm) and is available with either a fully electric or hydraulic control unit, with a coveted "Govie" award in the Green/Sustainable Solutions and Products category. Environmentalists and those organizations with a "green" initiative can choose either an electro-mechanical or hydraulic control unit. Those that need the extra power of the hydraulic unit do not need to use petroleum-based oil. Instead, customers can simply substitute bio-degradable oils, usually derived from cooking oils or vegetable oil. "Another big plus is that, while hydraulic lines are buried, the motors are kept above the ground ("above grade" in contractor parlance)," adds Greg Hamm, Delta Scientific vice president-marketing and sales. "Therefore, there are less environmental problems than with the electro-mechanical motor which is placed below the ground. With a hydraulic controller, there are no problems of a motor sitting in a pool of water or swallowed by mud."
With its 24-inch (61 cm) shallow foundation and aesthetic design, the HD300 obviates the concerns of interference with buried pipes, power lines and fiber optic communication lines. The shallow foundation also reduces installation complexity, time, materials and corresponding costs. The HD300 is perfect for high water table locations and areas with corrosive soils. It provides low maintenance as all components are accessible from the sides or top of the barrier.
The Security Products' Government Security Awards were launched in 2009 and re-launched as The Govies in 2011. Participation in the program continues to grow every year with a record number of 67 entries submitted this year. Platinum and Gold designations within award categories will be announced during the ISC West Expo, which will be held April 15-17 at Sands Expo Center in Las Vegas.
About Delta:
Delta Scientific Corporation is the leading manufacturer of vehicle access control equipment with over 260,000 square feet of production facilities in Palmdale, Calif. Delta's three product lines consist of high-security vehicle barricade systems, parking control equipment and guard booths. Delta Scientific has been engineering and manufacturing vehicle access control equipment since 1974 and sells its products worldwide.
Corporate headquarters, equipment sales, systems engineering and technical service are located at 40355 Delta Lane, Palmdale, Calif.93551. Phone is (661) 575-1100. Website is deltascientific.com. Product installation and maintenance services are provided through Delta's Tampa, Fla. office.
For More Information: