Press Release Dec, 2010
Delta Scientific's New DSC288 First High Security Sliding Gate to Match Materials of Perimeter Fence
Stops 15,000 Pound (66.7 KM) Truck at 50 MPH (80KPM); Shallow Foundation Design Also Allows No Penetration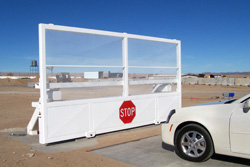 FOR IMMEDIATE RELEASE
PALMDALE, CALIF. – December, 2010 – Delta Scientific, the leading manufacturer of counter-terrorist vehicle control systems used in the United States and internationally, today announced that a new high security sliding gate, which will match the materials used in the perimeter fence, has been successfully full-scale tested to ASTM M50 and K12 standards, allowing no penetration of a 15,000 pound/66.7 kN truck traveling 50 mph/80 kph. The next-generation Delta DSC288 sliding gate also features a shallow foundation of only 33.5 inches/85 cm to avoid underground utilities conflicts and significantly lowers the time and cost of implementation.
A typical installation can be completed in only three days. "For the first time, a high security gate can now fully match its perimeter fence in materials ranging from wood, steel, mesh, glass, fence pickets or railings," attests David Dickinson, senior vice president of Delta Scientific. "While the front buttresses on a typical security gate increase the foundation size, affecting the appearance of the gate and limiting the thickness of the front face materials, the unique design of the DSC288 gate guides it from the rear side, leaving out the front buttresses. In other words, it's the crash beam behind the gate that stops the vehicle, not the face of the gate."
With no buttresses, architects and security engineers now have wide flexibilities on face treatment or in fill of the gate. For instance, anti-climb, clear or opaque ballistic in fill are available. In addition, the gate can be supplied as an open frame for field fitting or supplied completely assembled. For easy operation, the DSC 288 features plug and play touch screen control panels with intelligent monitoring and programmable logic control. A positive latch pin latch secures the gate in the fully closed position and protects against crowds forcing the gate open for anti-mob control.
Delta Scientific provides a wide range of sliding gate systems, all crash-rated, including one model that exceeds every known standard for crash worthiness. Some models operate without contact with the ground across the opening, another is manually operated while still others operate with rack and pinion drives across V-groove wheel ground tracks while incorporating IR safety beam and safety edges. Swing versions are also available. Clear openings range from 12 to 30 feet (3,657 mm to 9,144 mm). The standard height for all, except the swing gate, is 109 inches (2,769 mm).
About Delta:
Delta Scientific Corporation is the leading manufacturer of vehicle access control equipment with over 260,000 square feet of production facilities in Palmdale, Calif. Delta's three product lines consist of high-security vehicle barricade systems, parking control equipment and guard booths. Delta Scientific has been engineering and manufacturing vehicle access control equipment since 1974 and sells its products worldwide.
Corporate headquarters, equipment sales, systems engineering and technical service are located at 40355 Delta Lane, Palmdale, Calif.93551. Phone is (661) 575-1100. Website is deltascientific.com. Product installation and maintenance services are provided through Delta's Tampa, Fla. office.
For More Information: